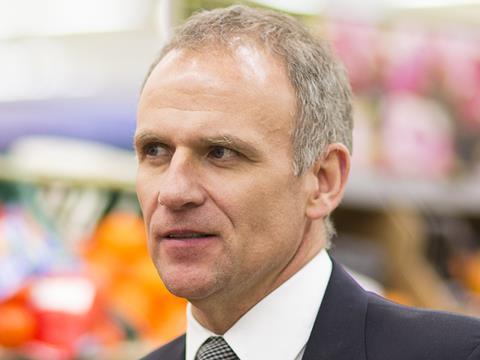 Tesco CEO Dave Lewis has called on the global food industry to be more transparent about food waste, after new figures showed 27 of Tesco's major own-label suppliers wasted a total of nearly 700,000 tonnes of food in 2017-18.

The retailer today released figures for the raft of suppliers who last year agreed to start publishing figures, in a move towards greater transparency. They have also all signed up to halve their levels of food waste by 2030.

The total amount of food wasted by the 27 suppliers came in at 680,801 tonnes, compared with the 53,126 tonnes Tesco revealed had been wasted from its UK operations in the same period.

The percentage of food in their production that was wasted ranged from 0% to more than 14%.
G's Fresh, one of Tesco's largest produce suppliers, supplying fresh and prepared vegetables and salads, recorded the highest percentage among those reporting, with 14.5% of its produce (48,730 tonnes) going to waste.

Bakkavor, which supplies ready meals, salads, desserts, pizza and bread, said it had seen nearly 50,000 tonnes of food go to waste, 9.2% of its food.

Global diary giant Arla said it had wasted nearly 400,000 tonnes of food in the period, though at 2% it was not one of biggest offenders when it came to the percentage of food wasted.

Today Lewis revealed 10 of its branded suppliers, including Mars, Unilever and General Mills, will commit to both tackling waste and publishing their data within the next 12 months.

Speaking in New York as the chairman of Champions 12.3, Lewis said: "Every year, a third of the world's food goes to waste. That's the equivalent of 1.3 billion tonnes of food being thrown away and we think that's simply not right," Lewis is expected to say.

"We hope every country, major city and company involved in the food supply chain publishes their own food waste data, so that together we can take targeted action to reduce waste.

"We believe that what gets measured gets managed. Ultimately, the only way to tackle food waste is to understand the challenge - to know where in the supply chain food is wasted."
Tesco became the first UK retailer to publish the amount of food wasted in its operations in 2013. It published figures for its Republic of Ireland and central European businesses for the first time last year.

In May, the supermarket revealed it had failed to hit its two-year target to eliminate food waste from its UK operation by the end of 2017/18, instead seeing food waste across its operation increase by more than 6,000 tonnes.

However, The UK's biggest retailer, which had aimed to hit the target by February 2018, had made it to 64% of its aim, according to independent analysis of waste in stores and DCs by KPMG.

Tesco's annual report revealed that growth across its food business had seen total food waste in the UK operation increase from 46,684 tonnes last year to 53,126 tonnes. However, Tesco said the level was "broadly flat" at about 0.5% of food sales.

"I definitely salute those who are leading in the fight against food waste," said Wrap CEO Marcus Gover.

"The work that Tesco has done in publishing its data has been very good and helped lead the way for the industry."