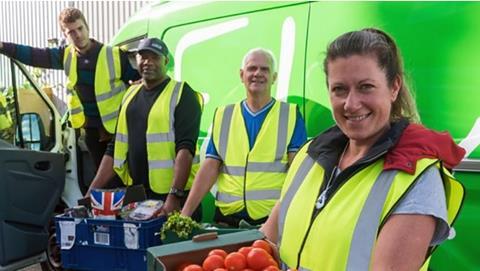 Work to set up food redistribution charity The Felix Project will be featured in a BBC series kicking off next week.

Over five episodes, The Big Food Rescue (28 November, 9.15am) will follow staff and volunteers at the London-based redistributor, which launched in March this year.

Set up in memory of teenager Felix Byam-Shaw, who passed away from meningitis in 2014, the charity has already secured surplus from 19 suppliers with around 17 tonnes of food a week donated into its Park Royal depot before being distributed to 35 registered charities.

The aim is to extend this to half a dozen depots across the city though, says co-founder and trustee Robin Aitken. He was approached by businessman Justin Byam-Shaw in 2015 to help roll out operations following his experience founding the Oxford Food Bank in 2009, which he and co-founder David Cairns have grown from a single supermarket and a handful of charities to an army of 120 volunteers shifting surplus worth around £1.5m every year.

"That model has been hugely successful," he said. "We've only ever accepted donations from local people and local trusts, we've never taken money from statutory sources, and that model was the one which we are now trying to transplant to London."

The BBC tracked work at the charity over six weeks and will give a "rounded" look at the volunteers, the suppliers and the charities that benefit, he added.