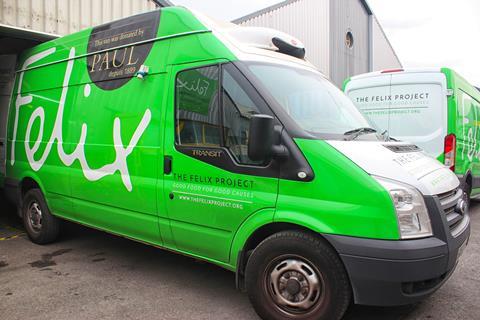 London-based food redistribution charity The Felix Project is set to take over FareShare's operations in the capital.
The move sees The Felix Project join the FareShare network as its 18th regional delivery partner, making it the largest last-mile food redistribution charity in the UK. Meanwhile, FareShare will expand its main focus of sourcing surplus food from the food and drink industry for redistribution to its network of partners.
In addition to the food The Felix Project sources itself, the charity will also benefit from having FareShare as a major food supplier.
The move is set to be effective as of October when FareShare's Deptford food redistribution centre will become a Felix Project operation. It will be Felix's third London depot and will enable the charity to redistribute food to all London boroughs.
FareShare CEO Lindsay Boswell said the move would take away the confusion some food companies had in deciding which charity to donate food to, and also drive efficiency on food redistribution.
"We are absolutely thrilled that The Felix Project are going to be joining the FareShare network formally as our delivery partner for London," he said. "Together we will be able to grow our dual impacts of reducing the amount of perfectly good-to-eat food that goes to waste and reduce the burden of hunger for vulnerable communities in London."
Felix Project CEO Mark Curtin said: "This is a an exciting, game-changing development. Having successfully grown to redistribute the equivalent of 7.1 million meals in the first half of 2020, partnering with our friends at FareShare will mean Felix will be able to continue to grow across London and get much more food to those communities that need us."