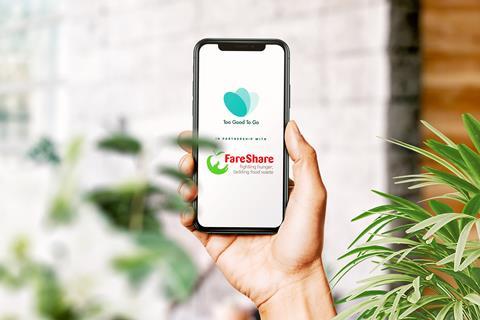 Too Good To Go has teamed up with food redistribution charity FareShare to help more people in the UK get access to food.
The collaboration means Too Good To Go users will have the chance to make donations of £2, £4 or £6 directly to FareShare through the anti-waste app.
The monetary donations will help FareShare with vital funding to continue its work in redistributing food via its channels.
Too Good To Go will also support FareShare appeals throughout 2021 and is looking to launch an employee volunteering programme once lockdown restrictions have been lifted.
This will likely include some volunteering at FareShare's distribution centres.
Read more:
"It is devastating to see how many people in the UK do not have access to food when so much is going to waste on a daily basis," said Too Good To Go co-founder Jamie Crummie.
"Too Good To Go is a long-time supporter of FareShare and this new partnership will help the charity continue its work in fighting hunger and food waste.
"Collaboration is key in the fight against food waste and I'm looking forward to seeing how much of an impact we can have together moving forward."
FareShare CEO Lindsay Boswell said: "The support of Too Good To Go, and all our partners, is vital in helping FareShare continue its work throughout the year.
"It helps FareShare redistribute nutritious good-to-eat waste food to people struggling to get enough to eat, via 11,000 charities and community groups across the UK.
"We are really grateful for the support of Too Good To Go, and all its customers who generously donate to FareShare via their app."