Love her or loathe her, Mrs May has the Midas touch.
Forget shaking down magic money trees for £1bn in loose Treasury change. Or finding enough for £3bn of Tory tax breaks under the sofa. We're talking about her power to turn a fetid mountain of food surplus into a glorious pile of glistening gold.
For £10-15m - a fraction of the cash winding its way to the DUP - the government could fund the redistribution of 100,000 tonnes of edible surplus food and drink per year. Good, tasty food currently ending up in the ground, spread on crops or burned in incinerators could instead be eaten by some of the UK's most vulnerable people, while saving the charities on which they rely hundreds of millions.
A 6 step plan to rescue 100,000 tonnes from the rubbish bin
Here's how it works. As Wrap spelled out in 2016, the scale of the surplus problem is astonishing. A staggering 2.6 million tonnes of surplus food are produced each year by the UK food & drink industry spanning the entire breadth of the supply chain. Of that, three quarters - or 1.9 million tonnes - isn't eaten. Instead it ends up spread on farmers' crops, turned into green energy at one of the UK's 540 anaerobic digestion plants or, worst of all, rots in a landfill site.

Not all this surplus is edible, of course. Potato peelings dropped on to factory floors or fish fillets edging past their use-by date at the supermarket quite rightly belong as fodder for biofuel or fertiliser for crops. But buried among that is at least 223,000 tonnes of edible food that suffers the same fate - 87% of the total edible surplus (270,000 tonnes) produced by industry each year. And there could be more. "There is a significant amount available we're not even aware of, particularly where there's a lack of data. I can only imagine we're seeing the tip of the iceberg of what's going to waste in some parts of the supply chain," says FoodCloud CEO and co-founder Iseult Ward.

What we do know is that only 47,000 tonnes of that is currently redistributed by British food & drink businesses, over half of which (30,000 tonnes) was bought up by commercial redistributor Company Shop in 2015, with the remaining 17,000 tonnes redistributed via networks such as FareShare, Neighbourly or FoodCloud.
How you can get #SeriousAboutSurplus
We're calling on the UK government to think again.
To go back to the drawing board and consider more seriously the difference a small subsidy could make to thousands of charities - and millions of people - across the UK. It's an ask we've made before. Repeatedly, in fact. But with the government rejecting Efra's proposals, we're set to launch a formal petition to show how much support there is behind the idea of getting more surplus, on more plates. And we need your help.
With 10,000 signatures government must respond. And with 100,000 they must debate it. If you're serious about surplus keep an eye out for the petition launch on thegrocer.co.uk
That's 17 times less than the 300,000 tonnes FareShare believes French food banks have access to, and nearly 30 times less than the 500,000 tonnes Italy's minister for food and agriculture says is redistributed in his own country (a figure he hopes to double to one million tonnes in the coming months).Undoubtedly, huge progress has been made since The Grocer launched its Waste Not Want Not campaign back in May 2016. In those 18 months we've seen the likes of Lidl commit to a national redistribution scheme for the first time, Tesco set an ambitious target to rid its stores of any edible waste, and leading suppliers reach major milestones in efforts to get more food on plates.
Yet it is true that the challenges facing companies when it comes to redistribution are often complex.

Developing proper processes to track what surplus is available and when, ensuring proper food safety procedures are in place, not to mention (often perceived) legal barriers. But equally significant is the hidden cost of doing the right thing.
"Many witnesses to the Efra inquiry raised logistical and transport-related problems with collecting surplus food"

According to FareShare (which works with more than 500 food businesses supplying surplus to 6,700 charities) it can cost up to £150/tonne to rescue surplus from the bin and send it to those in need. That hefty tag comes as a result of the equipment, staff, safe storage and transport costs associated with redistribution. These alone are enough to put many businesses off.

"There is also an additional cost in having to invest their own resources in identifying that surplus food and then developing a process to make it redistributable," says Ward. "Where we've seen it work really well is where a manufacturer or supplier has dedicated someone to look at a certain line, then develop a certain process to redistribute it. That, in itself, is quite a high upfront cost for an unknown benefit."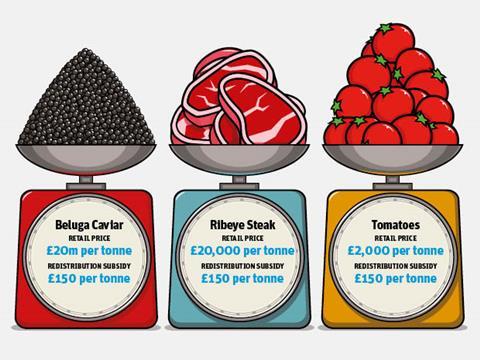 How our subsidy would work
Tax breaks for surplus have been in place in France for years. And they've been hugely effective.
But the model has been criticised too, largely as incentives are based on the book value of surplus, varying from product to product. Arguably this could encourage a business to discard certain foods quicker or earlier than necessary. In our model that doesn't apply.
Rather than book value, the subsidy would be based solely on the (proven) cost of separating, storing and transporting any surplus food to charity, whether caviar, steak or tomatoes
Landfill is cheaper
The cost and commitment become even more stark when you compare it to alternative methods of disposal. Packing off surplus to an AD plant costs £29/tonne on average, according to Wrap, a cost that has fallen by £11 year on year and has remained low thanks to heavy investment/government subsidy in the green energy sector. And even for landfill the median cost is just £22/tonne, plus an £86 landfill tax, bringing the total to £108/tonne. That means that in some cases it will be cheaper to chuck edible food in a hole in the ground than redistribute it to those that need it.
The inevitable result is that many businesses opt to protect their wafer-thin margins from these prohibitive costs. A dilemma that was raised to the Efra select committee on food waste earlier this year. "Many witnesses raised logistical and transport-related problems with collecting surplus, and many voluntary groups said they don't have the capacity to collect, sort and store edible food," says Kerry McCarthy chair of the All-Party Parliamentary Group on food waste. "While there's been progress by many businesses in reducing food waste in-store and at distribution centres, we know that anaerobic digestion (AD) is still being prioritised by many businesses over redistribution.

"Estimates vary, but we know that only between 2% to 18% of good edible food is donated for redistribution; the rest is still disposed of through anaerobic digestion or incineration. At a time when food assistance providers do not have enough donations to keep up with unprecedented need, we need to make sure much more available surplus is used to feed people and not bins."

How to fix that is simple. We are calling on the government to honour the recommendations of the Efra select committee (made after poring through hundreds of pages of expert insight and hours of oral evidence) and consider how additional funding could help cover these costs, and in turn provide a huge boost to charitable redistribution.

This scheme would see government reimburse businesses for the specific cost of redistributing their surplus, a cost we wouldn't expect to exceed £150 per tonne. At current levels of redistribution, that would mean an annual investment of just £2.6m per year. But crucially that incentive for business would unlock further surplus in the system, increasing this annual cost over time. And for only £15m of investment per year the government could effectively subsidise at least 100,000 tonnes of food - more than 100 million extra meals for UK charities. Given charities can spend up to £7,400 per year on groceries that could save the voluntary sector up to £150m in food and drink bills, FareShare calculates, a 10-fold return on the investment.

"At a time when 8.4 million people in the UK are struggling to eat, when frontline charities are facing an ever increasing demand on their services and when food businesses say disposal is cheaper than charity food redistribution, a pragmatic and solution-driven government [should] provide straight-forward economic incentives to the benefit of business, the environment and society as a whole," says Boswell.

It's a "no brainer" adds Sir Stuart Etherington, CEO of the National Council for Voluntary Organisations. "Charities are under the cosh financially. Anything that can reduce their costs we would encourage. If Defra could provide this relatively limited amount of money, they'd be able to benefit charities considerably. This is a really winnable policy objective."

Last month, however, in its (brief) response to the Efra committee recommendation, the government dismissed it as neither 'necessary' nor 'proportionate.' Rather it could 'perversely incentivise inefficient business practices leading to more food waste.'

Rubbish. Requiring an initial investment smaller than parliament's booze bill over the past two years, this scheme could unlock hundreds of thousands of tonnes of edible food waste and save millions for a charity sector increasingly relied upon by the Tories.

And as for a perverse incentive to waste food, the model we propose doesn't pay businesses a penny for their surplus. It merely reimburses them for the proven cost of separating, storing and shipping out that food to worthy charities. As per the diagram above, a producer of Beluga caviar will have nothing more to gain than a producer of cherry tomatoes, with no sliding scale of reimbursement based on best-before dates either. The only profitable option for a food and drink business will remain selling their food to a paying customer.

In other words, that response "sounds like officials have responded without sufficient political input, to be frank, and if I were the select committee I'd be asking ministers some quite serious questions," adds Etherington. "I suspect this needs to be pushed further up the political agenda."

So, that's our plan. We're launching a petition calling on government to think again. We need 100,000 signatories to force a new debate. We want to mobilise all employees in the food and drink industry. Consumers too. So please help spread the word: tweet 'I'm #SeriousAboutSurplus ' tagging @TheGrocer and we'll let you know when the petition is live.