Biffa says the deal will help create a circular economy, but there are tensions between commercial and charity redistributors
When waste giant Biffa announced it had snapped up Company Shop Group, the UK's biggest distributor of surplus food, in a surprise £82.5m deal last week, it was also quick to point out the significance of the timing.
Coming days before this week's inaugural Food Waste Action Week sought to "wake the nation", in Biffa's words, to the consequences of wasting food, this was a chance to turbocharge the UK's circular economy, it said.
But amid an unparalleled hunger crisis caused by the pandemic, the deal has also ignited controversy, threatening to make tensions between the commercial and charity redistribution factions boil over.
Will Biffa's acquisition of Company Shop help the industry slash food waste and revamp the cash-strapped recycling system, or is it all about the FTSE 250 giant's shareholders hoovering up more profits?
Biffa and Barnsley-based Company Shop pledged to work together to deliver a "unique circular economy proposition", unlocking more sustainable value from the 141,000 tonnes of quality surplus going to waste in the UK each year.
Biffa, the UK's second biggest waste company, with a turnover of £1.1bn, runs collection, recycling, treatment, disposal and energy generation operations. It plans to leverage its scale to expand Company Shop's commercial redistribution capacity.
It already boasts waste contracts with, among others, Amazon, Arla, Coca-Cola, Moy Park, Morrisons, Sainsbury's and Premier Foods. CEO Michael Topham says it has the logistics capacity to enable UK companies to create an unrivalled commercial food surplus network. "We've been looking for a number of years now to move further up the hierarchy into the business of waste prevention," he says.
"For us to make that move, Company Shop ticks all the boxes. It's very well regarded, with a unique business model, and delivers a surplus redistribution model that provides a financial return.
"We have a huge number of customers, not just in food, but clothing and homeware and the truth is most of those are not engaging in surplus, they regard it as waste," he adds.
Biffa cites regulatory and societal "tailwinds" behind the deal, including government plans for mandatory reporting on food waste. The Grocer understands ministers are moving towards a consultation this year that would see all larger firms compelled to report on food waste figures.
Reporting response
Company Shop has been prominent in trying to gear up the industry's response. Former MD Jane Marren told The Grocer recently the redistribution sector "would simply not be able to handle" all the stock that currently goes to waste. Company Shop has spearheaded talks with the likes of Amazon, Morrisons, Nestlé and Unilever, to explore how the commercial outlet for food surplus can ramp up in response.
But critics point out it will now be Biffa's trucks in prime position to take on that load, while the talks have been part-funded by the taxpayer as part of the Defra-supported Company Shop Luminary Programme.
Neither is it just Defra that has developed close links with Company Shop. In January the BRC announced the group had become its "sustainability partner", saying they would work together to "unlock value from stock" and "provide ready-made solutions to help retailers minimise unnecessary waste".
Company Shop and Biffa insist the relationship will continue but it has raised eyebrows in some quarters.
"If you're a retailer and you are not a Biffa customer, how do you feel about this?" says one source. "Even if you are a Biffa customer how do you feel, because now they are working with your rivals?"
But perhaps the most divisive aspect of the deal is the future of Company Shop spin-off Community Shop, a not-for-profit organisation that launched its first store in Barnsley to much fanfare in 2014, and targeted 20 stores within two years, with up to 50 envisaged in the medium term.
The model, which saw supermarkets including Asda, the Co-op, M&S, Morrisons and Tesco selling their food at a 70% discount to feed the poor, was touted as a new approach to tackling hunger across the UK, but seven years on has struggled to match its aspiration, with just six stores so far.
"Everyone is asking what's happening with Community Shop," says one source. "Will it have a future?"
Company Shop's new MD Steph McGinty and Biffa's Topham both insist Community Shop is a key part of the plans, with three new stores set to open "in the very short term".
"It's probably taken longer than we would have anticipated but it was important we tested the model and made sure it worked," says McGinty.
"We can definitely accelerate the Community Shop model and have an absolute commitment to do so," adds Topham, who insists Biffa's "caring for the community" aim is not just a paper promise.
What is Company Shop?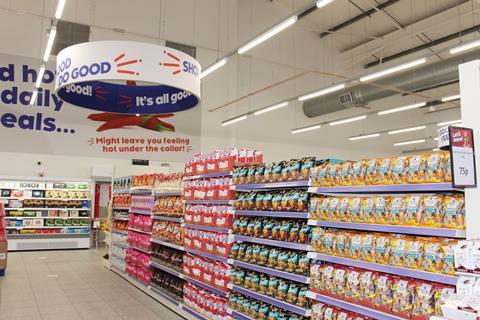 Founded by entrepreneur John Marren after he bought his first corner shop near Barnsley almost five decades ago for the sum of £250
It now buys surplus food from across the fmcg supply chain. Most major supermarkets and suppliers use its 'profit with purpose' model
It has 12 stores across England and Scotland, a number that has doubled since 2019
The stores sell surplus at "deeply discounted" rates to member workers from sectors including the fmcg supply chain, emergency services and the army
Source: Company Shop
Redistribution commitment
Last month, The Grocer revealed the IGD and Wrap had launched a major commitment that will see them ask companies to more than double the amount of food surplus going to redistribution, as research showed more than one in 10 families had visited a food bank during the pandemic.
Biffa muscling in does not sit well with some involved in those talks, though Biffa insists it is working in collaboration with IGD, alongside its recent venture with the BRC.
"There's real tension at the moment between the charity sector and the commercial sector, especially when charities are dealing with the worst hunger crisis in generations," says a source.
Others are more supportive of the takeover, however. "Biffa is an innovative company and this is a brave move because nobody else is out there tackling food surplus this way," argues another source.
"I remember Biffa's former boss Peter Jones once standing up at an event a few years ago saying that waste was a logistics business and at the time this was a revelation. The truth is it's entirely fair for people to sell their surplus supply to other people, and the fact this is food and there are competing demands for it doesn't make that any less true."
Lindsay Boswell, CEO of redistribution charity FareShare, says it hopes the takeover by Biffa "leads to far less unnecessary food waste in the UK every year".
"Company Shop's commercial model is different to FareShare's, and we welcome all initiatives that help reduce the environmental impacts of food waste in the UK."
But he stresses: "FareShare redistributes surplus food to thousands of the UK's most vulnerable people each week, through our network. We think it is really important this food helps the people and communities who need it most."
Topham claims concern over the deal is misplaced. "If more companies could start combining a social purpose with a profit model, the world would be in a better place," he argues.
"There's a false dichotomy between charities and a commercial model. They can, and do, work together."
With the debate heating up over how businesses can help tackle the hunger crisis, the spotlight on food waste and a raft of regulation seemingly coming down the track, getting the response right will have huge commercial and societal implications – not just for Biffa, but the whole industry.