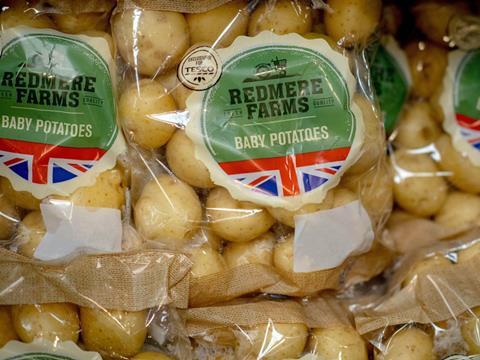 Less than a fortnight after falling short of its ambitious target to eliminate all edible food waste, Tesco has picked itself up and introduced a new scheme that could significantly reduce the amount of fresh food being thrown away.
The retailer has ditched best before dates on some 70 of its more "robust" fruit & veg SKUs in a new stab at cutting waste in its aisles.
In a display of confidence in the judgement of shoppers, Tesco has scrapped the labelling on a range of produce including citrus, apples, peaches, tomatoes, celery, carrots, peppers, parsnips, onions, shallots, garlic, sweet potatoes, and red and white cabbage.
As long as fruit & veg aren't pre-cut or peeled, the law doesn't require them to carry a use-by or BBE date. The same holds true for booze with an abv above 10%, breads, salt, vinegar and some confectionery.
"We know some customers may be confused by the difference between 'best before' and 'use by' dates on food and this can lead to perfectly edible items being thrown away before they need to be discarded," says Tesco head of food waste Mark Little.
It's the latest in a series of initiatives by the supermarket to cut food waste, which has also seen the launch of its Perfectly Imperfect range of wonky veg, selling cut-price kilo boxes of bumper crop produce, and donating surplus food to charity via Community Food Connection.
But this is the first major step the retailer has taken to prevent waste both at store level and in the home.
Removing the BBE date leaves it up to consumers to decide how long their food is fit to eat. Indeed, Tesco says many consumers like to judge their food on appearance rather than dates they may or may not understand.
According to the Women's Institute, less than half (45%) of its members surveyed understood 'best before' dates were an indicator of food quality. More worryingly, more than a quarter (26%) did not understand 'use by' dates were a marker of food safety.
But could the new regime make rotating and replenishing stock a more onerous task for staff?
Tesco says not, as its employees have been trained to identify fruit & veg past its best. Meanwhile, packaging still displays numerical stock rotation codes not immediately obvious to consumers.
Wrap has hailed the move as "a good opportunity to learn about the customer response", calling on Tesco to share its findings as the first results roll in. Though it noted clarity of storage advice on-pack and in-store will be vital in giving consumers enough time to use their produce.
Despite Tesco only reaching 64% of its target to eliminate all edible food waste in its supply chain by February 2018, it believes this new move can make a significant difference to the amount of perfectly edible produce currently thrown in the bin.
Whether consumers now take up the challenge will be the true sign of the initiative's success.