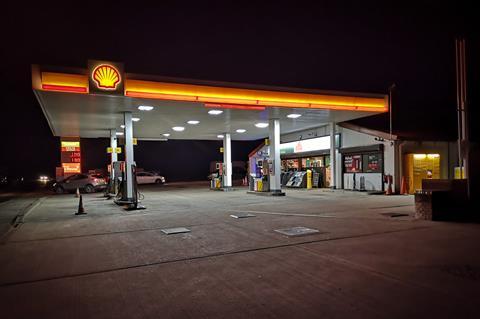 Ascona Group is set to almost double its estate to 120 sites by next April, and hopes to get to 300 in three to five years.
The forecourt operator currently has a 56-site network across England and Wales and is "evaluating" opportunities in Scotland. A further three new forecourts are to be snapped up by tomorrow (29 April).
On Monday the business acquired a 4,500 sq ft site in Kington, Herefordshire, the group's first standalone convenience store, or "mini supermarket", without a fuel service station.
It also has five knockdown rebuilds in the pipeline over the next two years, with its first one in Pembrokeshire, Wales, to reopen on 7 June 2021.
The Green Garage Station, formerly known as Bush Hill, was the first site Ascona Group founder and CEO Darren Briggs took on in 2011. It was knocked down "10 years to the day" later, and is being extended from 1,000 sq ft to 3,500 sq ft.
It will include the Ascona Fish Bar brand and Instawash Launderette.
The business's rapid expansion plans could accommodate a total of 1,100 staff by this time next year, it said.
"We call it 'Asconarisation'," said Briggs. "We take an unloved forecourt, improve the look and feel, the customer experience, and make it more of a retail destination than just a petrol station.
"And that's what the team does. We've got a great team in the field that do the clever stuff and manage the portfolio. We wouldn't be where we are today without our area managers, site managers and my fellow directors."
He said the business was putting a "big emphasis" on food to go, with a focus on in-store bakery, sandwiches, baguettes and coffee.
"We will either work with Costa or Smokin' Bean, or now, because of our size, we're in discussion with Starbucks," Briggs said.
"These are all part of our development, and making a roadside destination that has a forecourt, retail, food to go and other ancillary services."
Its fuel volume levels are currently back to 90% of pre-Covid levels, Ascona said.
From December last year through to April, it reported shop sales were running on average 16 to 20% up on the previous year across its estate.
"The retail side of it is now more important than fuel," Briggs added. "They're using us more than just the distress purchase. We're seeing more and more customers use us for a daily shop [and] the essentials.
According to the new Lumina Intelligence UK Forecourt Market Report 2021, 26% of shoppers are using forecourts for a planned top-up mission, while just 9% cite fuel as their main reason for visiting.
"I see the retail sales in store growing," Briggs continued. "Especially the food-to-go sector, I think that's a huge growth area for forecourts. And I think valeting is another great growth area for a switched-on operator."