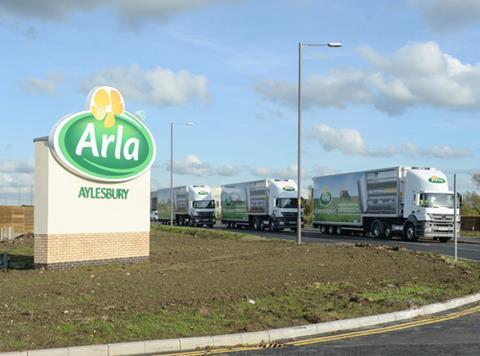 Arla today announced total revenue across its global operations hit 73.6 billion DKK (£8.4bn) in 2013, up 16.6% on 2012.
Net profit was a pre-set 3% of turnover, amounting to £250m.
In the UK – Arla's biggest market by revenue – turnover reached £2.2bn, up 22% year on year. Arla merged with Milk Link in the UK in 2012, and the increase had been driven by the integration of these operations into the Arla UK business but also a strong performance of its core brands, according to Ash Amirahmadi, Arla UK vice president of milk and member services.
For example, value sales of Lurpak increased by 3.5% and sales of Anchor were up 2.5% in 2013, even though the overall butters and spreads market had seen value and volume declines, he said.
"Our competitors have been promoting less, and when that happens consumers switch to the brands they love."
Arla planned to build on the strong performance of Lurpak and Anchor in 2013 with a raft of NPD backed by heavyweight marketing and advertising support this year.
Details on those NPD plans will be revealed in next week's issue of The Grocer.
Milk price
Arla said today its Performance Price – which reflects the return the co-op has managed to generate on its farmers' milk – stood at 33.91 pence per kilo in 2013, up from 30.21 pence per kilo in 2012.
"2013 was the best year in Arla's history in terms of milk price, and we want more milk," said Amirahmadi.
Arla has previously announced it wants to produce a further 300 million litres of milk in the UK in 2014, and Amirahmadi said he hoped to hit that target by the summer.
Although UK dairy commodities prices had softened recently, global demand for dairy remained strong, he added. "Because our price is a global price, not a UK price, our members are able to benefit from those dynamics. The UK market is starting to turn, but global markets are staying buoyant and our forecast is that we'll have stable milk prices for the next few months. That's a reassuring message for farmers."
For 2014, Arla is targeting a Performance Price of between 36.1 and 37.3 pence per kilo as well as global revenues of £8.7bn and a net profit of £265m. It did not disclose revenue and profit targets for the UK.
Also today, Arla announced it was delaying the UK launch of its Arla Gaarden farm assurance scheme until 2015.