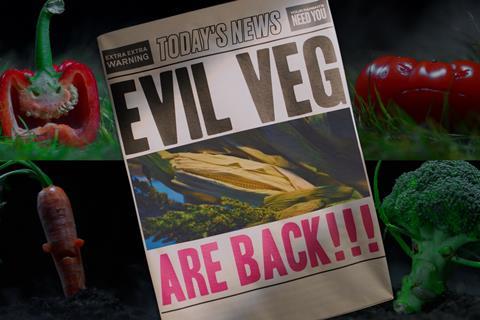 Jamie Oliver as an evil carrot and Amanda Holden as a terrifying tomato are part of a new campaign to try to increase kids' fruit & veg intake.
The latest phase of ITV and Veg Power's Eat Them To Defeat Them campaign starts tomorrow with a new ad in which celebrity chefs and personalities play the voices of "evil attacking vegetables" that need to be conquered by children.
Called 'Prepare for Battle', the campaign carries on the strategy of positioning vegetables as an 'enemy' to children who must 'Eat Them to Defeat Them' and become heroes.
The campaign is backed by a multimillion media alliance between ITV, STV, Channel 4 and Sky, and funded by a raft of leading food and retail brands including Aldi, Asda, Birds Eye, Co-op, Lidl, Total Produce, Ocado, Sainsbury's, Tesco and Waitrose.
Other celebrities in the campaign include Emma Thompson, Stephen Mulhern, Giovanna Fletcher and Ranvir Singh.
It comes as a new report from the Food Foundation shows almost a third (29%) of children aged five to 10 years old eats less than one portion of vegetables a day.
'Prepare for Battle' launches on Saturday 29 May including in ITV's new show The Masked Dancer – which includes a Beetroot character inspired by the campaign.
Organisers said the campaign was set to reach 5.2 million households with children, thanks to donated media from ITV, Channel 4 and Sky, as part of their £10m commitment to promoting healthy lifestyles for children.
"This award-winning campaign is proof that it's possible to change not just kids' attitudes but their behaviours around eating vegetables," said Susie Braun, head of social purpose at ITV. "We are delighted to be driving this huge alliance around Eat Them to Defeat Them for a third year, together getting literally millions more portions of vegetables into kids' tummies."