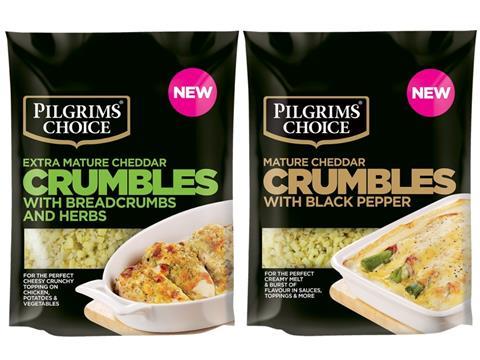 Adams Foods is looking to inject fresh value into the grated cheese and additives categories with two new range extensions for its Pilgrims Choice brand: Crumbles and Pick n Mix.

Pilgrims Choice Crumbles is a three-strong premium range of grated cheddar designed to offer better "meltability" than standard grated. The crumbles are tiny rectangular cuboids of Cheddar - a shape that, Adams claims, creates a more even, consistent melt than the "lattice" typically achieved by grated.

Crumbles has been listed by Tesco, Sainsbury's, Morrisons and Waitrose, and will start going on shelves from 26 March. It comes in three variants (mature, mature with black pepper and extra mature with breadcrumbs and herbs) and Adams will market it as a versatile ingredient for quick family dishes.

The grated category had become heavily commoditised and grated products no longer commanded a premium, said Adams marketing director Alastair Jackson. But, with an rsp of £2.79 for a 200g pack, Crumbles would command a per-kilo premium of more than £5 over standard grated Cheddar.

Adams is supporting the launch of Crumbles with hot sampling at the fixture, a tie-up with Jamie Oliver's FoodTube online TV channel, press ads and extensive online and social media activities. It is also exploring opportunities for cross-category promotions.

Separately, it is launching a new range of additive cheeses in 80g trial packs, under the name Pick n Mix. These will be available in six variants at launch and will go into Tesco in April, priced at £1.30 for one or £3 for three. "We love that we have six flavours as this really offers the consumer a choice and links back to the brand proposition of offering consumers the best choice of cheese," said Jackson.