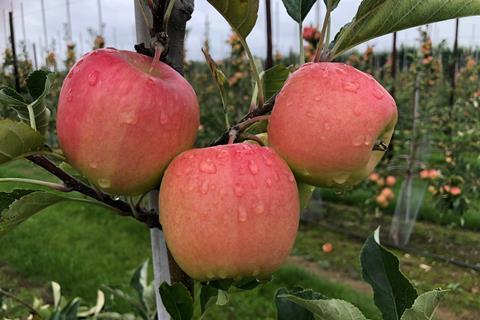 Major British apple grower AC Goatham & Son claims to have produced the first commercially viable pink-skinned apple variety in the UK.
Named the Flanders Pink after the company's farm in Kent, this will be the first year the apple has been produced on a large enough scale for it to be sold to supermarkets, having gone through "several years" of growing trials.
The crop will be harvested from 9 September and will be available in Sainsbury's, Iceland, Lidl and Aldi from December, with the supply anticipated to last for up to four weeks.
According to Goatham, the new variety has been described as "sweet, crisp and very juicy" in blind consumer tasting sessions. The grower hopes it will plug a gap in the market for alternative British varieties to Cox and Bramley apples.
"Whilst there were many different varieties of apples to grow, many were not commercially viable to be grown on a large scale due to lack of pest and disease resistance, [as well as issues with] appearance, taste, travel and storage ability," said AC Goatham & Son commercial director Carol Ford.
"Growers like us have made a significant investment into their businesses, enabling us to compete and we have collectively been able to regain market share [from growers overseas].
"What this means for consumers is that they have more choice of quality British apples from a more sustainable source with less food miles."
The company, which grows 350 million apples a year, said it would be planting further orchards for the Flanders Pink this year and next year.