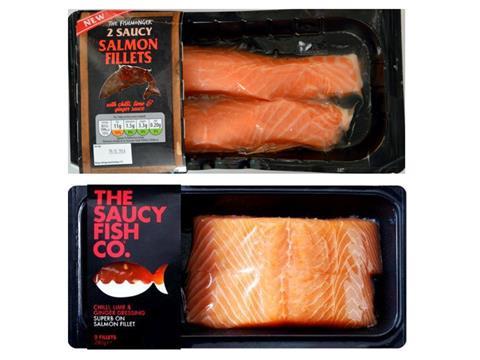 Fish supplier Icelandic Seachill is set to face off in court with Aldi over a 'copycat' version of The Saucy Fish Co, after securing an interim injunction against the discounter.
Icelandic said Aldi had agreed to submit to a temporary injunction from the High Court and had removed its Saucy salmon fish-and-sauce products from sale. The injunction was agreed in March but only came to light this week.
Icelandic argued Saucy Salmon was "confusingly similar" to The Saucy Fish Co and infringed its trademark. Like The Saucy Fish Co, Saucy Salmon came in black packaging with a cardboard sleeve to the left of the pack featuring a cut-out fish shape. The sauces were also similar, with Aldi offering crème fraiche & watercress sauce, and chilli, lime & ginger sauce, while Saucy Fish Co has watercress & crème fraiche dressing, and chilli, lime & ginger dressing.
"Aldi's imitation undermines the trust and confidence consumers have built with us," said Saucy Fish head of brand Simon Smith. "Our brand represents a promise of consistency, not easily replicable by packaging alone." According to Icelandic, Saucy Salmon was on sale at £2.99, while Saucy Fish Co products have a £4.50 rsp.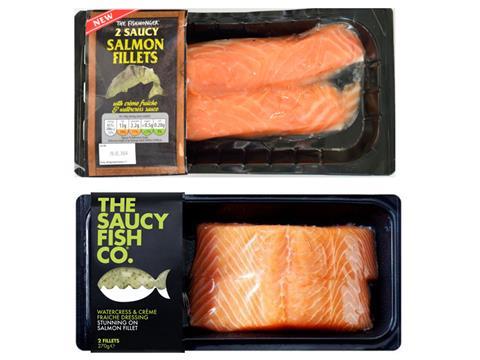 The injunction will be seen as a blow to Aldi's 'Like Brands But Cheaper' campaign, but the discounter said Saucy Salmon was a trial product and had "since reached the natural end of the trial period".
Its MD for corporate buying, Giles Hurley, also stressed the injunction was temporary. "It is important to note that no decision has been made regarding the upholding of the injunction."
The two companies are now set to square up in court later this year.
If Aldi wins, it would be able to reintroduce the Saucy Salmon lines, but Smith said he was "encouraged" by the outcome of the interim injunction and "confident we'll secure a positive outcome when this case reaches court". "'Ghost' brands that trade on the halo effect of an established brand simply should not be tolerated and I'm sure other brand owners will be watching this case with interest," he added.
Aldi launched Saucy Salmon at the end of January. In an interview with The Grocer last year, Aldi joint managing director Matthew Barnes said he was impressed by the success of the Saucy Fish Co and revealed plans to launch a rival. "We know we can do better," he said at the time.