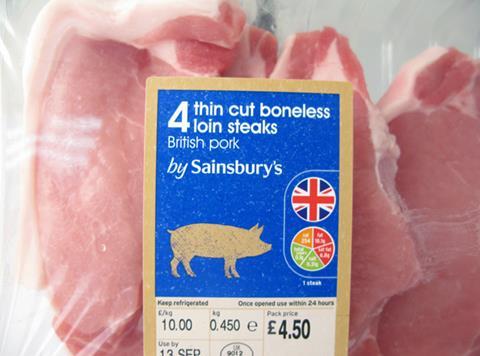 Consumer support for British food was not a knee-jerk reaction to the horsemeat scandal but is a long-term trend – and supermarkets should respond by increasing their support for UK-produced foods, NFU president Peter Kendall has said.
A One Poll survey last year – in the wake of Horsegate – showed 78% of UK consumers wanted supermarkets to stock more British produce, Kendall told the NFU conference in Birmingham today. "A year on, that figure is 79% – in other words, not just a knee-jerk reaction."
Kendall acknowledged that retailers had already made important commitments to UK food and farming, citing Tesco's move to 100% fresh chicken, Sainsbury's commitment to sourcing 100% British on its fresh pork, and Aldi and Lidl's policy of sourcing fresh meat and poultry from British farms, "most of it Red Tractor".
He added: "There's still a way to go on processed food, but I applaud The Co-op for the start they've made, with their commitment to use only British beef in their ready meals. Morrisons are up there too on the ready-meal front."
But more could be done, and retailers would do well to listen to "the great British consumer", Kendall said.
However, he stressed the NFU was not pushing for all non-UK foods to disappear from supermarket shelves. "That would be protectionist – the polar opposite of a fair and fully functioning market. Besides which, as things stand, we'd go hungry – which says it all, really."
Kendall also used his speech to urge the government to develop a long-term food strategy for the UK to ensure its food security. He said the UK's self-sufficiency in food had gone "massively into reverse" in recent decades, dropping from 78% 30 years ago to 62% today.