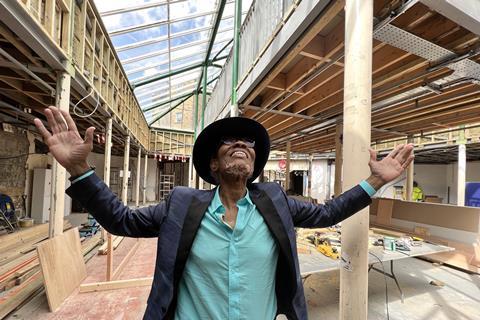 The Black Farmer has announced plans to open its first farm shop in Brixton in November.
The brand's founder Wilfred Emmanuel-Jones told The Grocer he planned to open the 5,000 sq ft south London store on 14 November.
Emmanuel-Jones said he wanted to "bring the farm shop to urban Britain" as part of the next stage of The Black Farmer's development.
"It's about where premium foods are not just for people from rural communities, but also for people to experience that from urban backgrounds," he added.
Brixton was chosen for the first location after developers suggested The Black Farmer could act as an "anchor store" for other retailers on the same development.
These businesses were mostly startups, which Emmanuel-Jones said was "very much in line with what The Black Farmer brand is all about, in terms of giving opportunity".
"There is a lack of diversity in the food chain generally and it is a way of encouraging people from diverse backgrounds to become very much more part of the food chain," he added.
"It is the first time ever that we bring the farm shop experience to an urban environment and the whole idea is that we will then roll out to Birmingham next, then Bristol, then Bath then Exeter."
The store in Birmingham, where Emmanuel-Jones was raised, is expected to open this time next year. The business is currently looking at sites that fill its requirements.
The shop will stock The Black Farmer range, but will also "showcase startups and up-and-coming brands". The business has called for local and south west artisan businesses to get in touch for listing discussions.
Emmanuel-Jones said the move represented an opportunity to really "mentor and encourage people who are really interested in the food and drink industry" and give them their first listings in the farm shop.