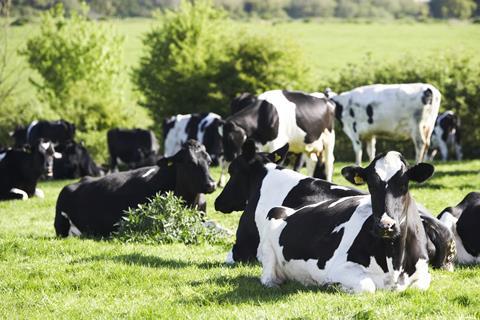 Britain's dairy farmers are on course to produce an additional 1.4 billion litres a year of milk within five years - and to begin eradicating the UK's £1.2bn dairy deficit, according to new calculations by Promar.

In a recent survey by the consultancy firm, 61% of dairy farmers said they planned to increase their herd size over the next five years, with 40% expecting their cow numbers to increase by between 1% and 25%, and 16% of farmers expecting an increase of between 26% and 50%.

If farmers make good on these intentions, this could lead to an extra 1.4 billion litres of milk a year being added to the UK dairy industry, Promar said.

The firm based its calculations on average milk yield growing in line with historic yield growth over the past 10 years, arriving at a projected average yield of 7,900 litres per cow a year in five years' time. It also assumed any additional cows will have at least the national average productivity and that the rate of dairy farmer exits will carry on falling.

The dairy industry's 'Leading the Way' strategy, published at the end of 2013, set out plans to eradicate the UK's £1.2bn dairy deficit over the next 10 years. This would require an additional four billion litres of milk, and Promar divisional director John Giles said his firm's calculations suggested that target was ambitious but achievable.

"All of a sudden, maybe the additional four billion litres by 2025 don't look quite as daunting," he said, although he warned "there are still questions to be asked and answered as to how we develop exports from the UK too."

Promar's findings broadly mirror those of DairyCo's farmer intentions survey, published earlier this year, which suggested farmer confidence was at a record level and 31% planned to increase their herd size.