Fish fingers are so last year. Now it's all about succulent bass fillets embraced in a crispy lemon and herb tempura. Premium products are on the rise across the frozen aisles as consumers demand high quality but quick to prepare products to fill a gap in the evening meal.
Take Young's. Its premium Gastro range – which includes the aforementioned bass fillet – has helped keep the brand in value growth thanks to the higher price the products command, although volumes are down. Young's also invested heavily in product quality and recipe improvements across its core ranges like Young's Meals and Chip Shop.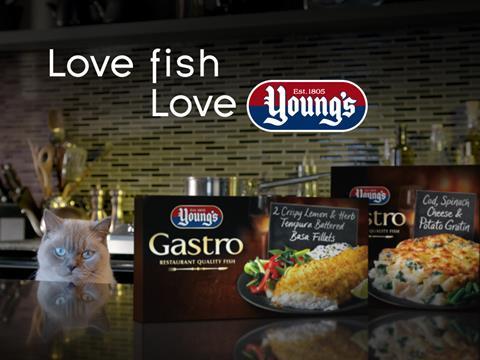 "In 2014 we made a conscious decision to develop our ranges in higher value segments like prawns as well as through other value added segments with new launches in our Premium Young's Gastro Range including Meals for One and Coated ranges," explains Wayne Hudson, MD of Young's Seafood's frozen business.
The premium range notched up £22.3m, according to Young's, which expanded Gastro in 2014 with meals-for-one. This will continue to be supported by a multichannel marketing push featuring Malcolm the cat, a discerning feline foodie voiced by actor Rupert Everett.
Malcolm isn't the only one lusting after posh frozen fish. Birds Eye's Inspirations range is the NPD success story of 2014 raking in an impressive £31.3m from its March launch to the end of the year [Kantar Worldpanel 52 w/e 4 January 2015], making it the most successful launch in grocery of 2014, according to Kantar.
Compared to other ranges, Inspirations commands a premium averaging around £2 per component but Birds Eye UK sales director Neil Barker believes consumers are happy to pay more. "Consumers are willing to pay a little extra for a high quality, premium product that is easy to prepare and suitable for a range of meal occasions," he says.
Frozen fish: IRI 52 w/e 3 Jan 2015
Value
Volume
£(m)
change %
kgs(m)
change %
Birds Eye
169.3
-8.4
27.4
-11.2
Young's
148.5
1.0
25.1
-4.4
The success of Inspirations wasn't enough to bolster Birds Eye's performance in frozen fish though. Its value sales fell £15.5m [IRI 52 w/e 3 January 2014] as the category suffered a 2.1% decline to £749.8m [Kantar].
Barker remains positive. "Premium innovation that offers consumers a high quality, convenient meal solution that is also heavily supported with TV and outdoor investment can help deliver step change category growth, as we found with the Inspirations and Steamfresh launches in 2014. Launching new products will remain a focus for Birds Eye in 2015 and beyond, with our recent Stir Your Senses launch another key growth initiative," he says.
Another everyday favourite enjoying growth as a result of premiumisation is pizza. Chicago Town is doing particularly well. Sales are up £3m [IRI] as consumers trade up to the takeaway range, according to the brand. Takeaway favourite dough balls were added to the range in 2014 as well as a medium sized crust and a limited edition BBQ sizzler to coincide with football season – a key opportunity for the category.
Conversely, sister brand Ristorante's sales dropped by £2.8m [IRI] despite the backing of its Everyday Favourites campaign in the autumn of 2014 and offered consumers the chance to win up to £10 off their weekly shop. Ristorante's range was extended in 2014 with the addition of margherita and pollo arrabiata variants. "Pollo Arrabiata meets a growing trend for more adventurous flavours," believes Jan McKee, Dr Oetker marketing director frozen division.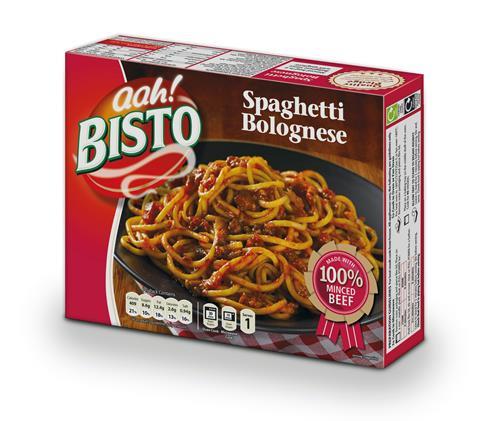 Sticking to flavours closer to home helped Bisto double sales of its frozen ready meals, a rare branded success story in the sector. While hardly posh, it has achieved this partly by marketing itself on the quality and provenance of its ingredients, after rivals were caught up in the 2013 horsemeat scandal. Sharwoods, also made by Kerry Foods under licence from Premier Foods, also saw positive results adding £1.2m to its value.
Brand trust is the key to their success, according to Charlotte Bourne, Kerry Foods assistant brand manager. "Bisto and Sharwood's have successfully addressed the challenges faced by the frozen category through migrating their ambient food presence and values across to the frozen aisle. By focusing on much loved and trusted recipes, such as Bisto Lasagne, Bisto Spaghetti Bolognese, Sharwood's Chow Mein and Sharwood's Rice, the strategy has significantly helped put trust and reassurance back into the category and reinforce food quality perceptions.
Trust issues still linger for some. Mr Brain's (also manufactured by Kerry Foods) believes the Horsegate legacy is still affecting the category but there are signs of recovery. Indeed, frozen ready meal sales have increased 1.5% in the past year [Kantar].
Frozen ready meals: IRI 52 w/e 3 Jan 2015
Value
Volume
£(m)
change %
kgs(m)
change %
Weight Watchers
31.5
-29.4
7.3
-27.4
Bisto
23.8
100.5
7.2
99.1
Youngs
17.8
-25.7
4.9
-24.4
Birds Eye
17.0
-35.0
3.1
-34.5
Kershaws
11.6
1.1
3.1
-9.1
Mr Brains
9.8
-11.6
4.4
-16.2
Sharwoods
7.9
17.6
2.9
20.1
Aunt Bessies
5.9
3.7
0.9
-4.1
Hungry Joes
2.7
-10.8
0.8
-8.6
"Although the category has suffered greatly post-equine and lost shoppers as a result of lost trust in the quality of the meals, we see clear evidence that the category is recovering," says Chris Owens, Kerry Foods marketing controller. "It will take more time and effort from retailers and manufacturers to attract back lost shoppers; with both targeted consumer communication as well as NPD plans to re-invigorate the category and consumers' perception of frozen ready meals, as well as frozen food as a whole."
Despite this, there are no immediate plans for NPD from the Mr Brain's however marketing in 2015 will be a celebratory affair, focusing on the its 90th anniversary.
Celebrations are on hold at WeightWatchers as sales of its ready meals fell by £13.1m on volumes down 27.4%. The brand could be squeezed further following the recent launch by rival slimming club Slimming World of 10 ready meals.
One brand that hopes competition won't be an issue is Nana Kay's, manufacturer of frozen ready meals for children. Currently the brand supplies meals to 80 nurseries nationwide and is hoping to break into the retail sector soon. "Discussions are underway with a number of major retailers," says Donna Tresadern, managing director at the brand. Nana Kay's range consists of 10 dishes such as chicken casserole, macaroni cheese and vegetable curry.
She believes there's a gap in the market for nutritional ready meals aimed at children under 10. "Children's ready meals under trade because of the category's reputation of being a poor nutritional alternative. Mums are worried about what their children eat but feel guilty if they don't cook," she says. "We think we can fill this gap by providing nutritional meals that mums and children will love."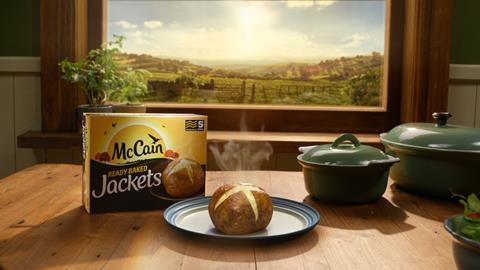 Turning to side dishes, frozen potatoes and vegetables aren't doing well. Veg is down in value 1.2% while potatoes only saw 0.7% growth [Kantar]. Aunt Bessie's and Birds Eye saw losses in both categories. Two of the top five frozen potato brands managed to grow sales and volumes – McCain and Bannisters' Farm.
"We've continued to make headway by gaining new listings of key products from our existing range," says Zoe Bannister, commercial director at the family run potato firm. "We've been continuing along the path of innovation and it has had a positive impact on results as our new products are beginning to hit the freezer cabinets."
Frozen ready meals: IRI 52 w/e 3 Jan 2015
Value
Volume
£(m)
change %
kgs(m)
change %
McCain
309.4
1.1
149.3
1.2
Aunt Bessies
88.4
-10.9
45.0
-10.0
Birds Eye
22.5
-1.7
9.2
-4.3
Fries To Go
12.8
-5.3
1.8
-6.1
Bannisters
7.4
7.9
2.5
10.6
Clare Bout
2.3
-24.5
4.5
-20.4
Meanwhile McCain attributes its growth to jacket potatoes. "The huge growth of the jackets sector since launch has demonstrated that with the right product solution consumers are willing to change their cooking habits, with many shoppers converting from preparing jacket potatoes from scratch to the convenience of frozen Ready Baked Jackets," says Mark Hodge, McCain Foods marketing director. He adds the McCain Quick Cook French Fries and McCain Roasted Garlic Wedges have been added to the existing range to ensure that potato can be served at more meal occasions.
Looking at Yorkshire puddings, market leader Aunt Bessie's has struggled. Value sales are down 3.1%. Nevertheless it's been a busy year for the brand with NPD launches including new desserts in the form of orange sponge and toffee apple pie as well as its roasting vegetable mix.
Commenting on Aunt Bessie's performance in a difficult market, Lorraine Rothwell, head of marketing, says: "It has been a challenging year for the frozen category but we remain committed to reinvigorating the category through continued investment in innovation and communication to show consumers how the freezer can be a source of quality and inspiration."
Back to: Our global top ten launches
Forward to: Frozen ready meals can be sexy
In partnership with