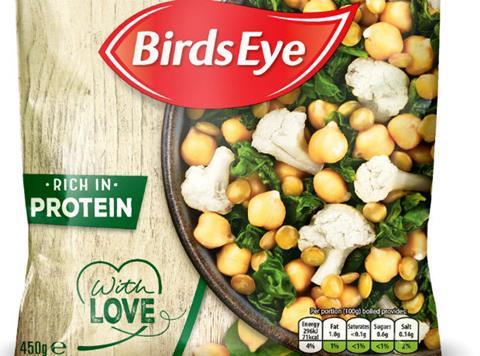 Birds Eye has become the latest supplier to commit to front-of-pack traffic-light labelling across its portfolio.

The brand hoped the move would elevate the category by promoting awareness that frozen products are nutritionally equivalent to fresh, it said.

The Department of Health's voluntary colour-coded traffic lights are set to roll out across Birds Eye's entire portfolio of products during 2018, including its fish, ready meal and frozen veg offers.

"With the adoption of the traffic-light system, we hope to take Birds Eye, and the frozen category, to a place where frozen is seen as, and understood to be, nutritionally as good as fresh," said Birds Eye marketing director Steve Challouma.

"We are proud of the nutritional profile of our food, and have always been dedicated to helping our consumers make healthy and nutritious choices. Most recently, we've shown our commitment to encouraging our consumers to eat their 5 a day by introducing a broader and more exciting range of frozen vegetables."

The frozen giant joins brands such as McCain, Heinz and Nestlé in adopting the labelling, with the Nestlé and General Mills joint venture Cereal Partners, which owns the Cheerios, Shreddies and Golden Grahams brands, also adding the signposting in September 2017.

The government launched the hybrid scheme in 2013 as it moved from Guideline Daily Amounts to Reference Intakes.

Birds Eye recently launched a new marketing push complete with a new actor in the role of Captain Birds Eye, and announced reformulated products and updated packaging for its coated fish range.