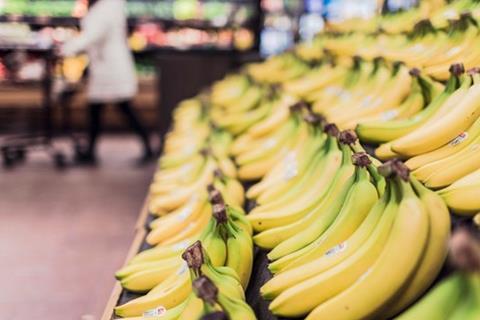 Consumers may have to foot the bill if they want sustainable banana production in central and southern America, a campaign group has warned.
Banana Link has called on retailers to bear more of the cost burden facing the industry with Aldi being singled out for having "far from fair" prices.
While conceding Aldi's new 2020 global price of €12.41 per box was higher than the discounter's "all-time low" 2019 price of €11.87 per box, the NGO said Aldi had merely taken the price "back to where it was in 2018" following three consecutive years of reductions.
It comes after three Ecuadorian banana industry bodies, AEBE, ACORBANEC and AGROBAN, released a joint statement which said competing demands were ramping up their costs.
"The world wants bananas that are…sustainably grown with integrated pest management, best practices that protect workers and ensure living wages, that have full traceability, that are clean and perfect, adjusted to technical specifications and use less plastic," the statement read.
"That is all good; we embrace and encourage that, but who pays for it? Because it is certainly not free."
They added that the enforcement of sulphur emissions limits in shipping would also increase their costs.
In response, Aldi spokesman said: "We require our suppliers to adhere to the legal minimum rates in all production countries, including Ecuador, as well as legal minimum wage limits.
"Furthermore, we are a member of the World Banana Forum, and we support the 'Cost of sustainable production' Working Group."
Banana Link described the price issue as "a critical moment" for the industry.
"If the workers and the producers, small or large, continue to bear nearly all the burden, nobody will get what they want and need," said international coordinator at Banana Link, Alistair Smith.
"Retailers and consumers will not see the social and environmental progress they have been increasingly demanding, whilst producers will simply go bankrupt, or ignore the demands from the major consumer markets."