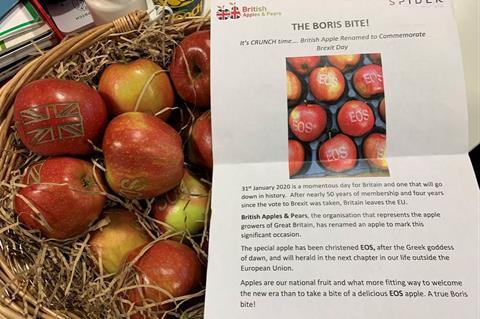 British Apples & Pears has marked the UK's departure from the EU today by temporarily renaming the Gala apple variety after the Greek goddess of the dawn.
Riffing on Boris Johnson's public address – due to be broadcast this evening – in which he will say the UK is entering a 'new dawn', the BAP said the Eos offered a "Boris bite" on what it described as "a momentous day for Britain".
"The special apple will herald in the next chapter in our life outside the European Union," read a BAP statement.
"Apples are our national fruit and what more fitting way to welcome the new era than to take a bite of a delicious Eos?"
BAP executive chair Ali Capper stressed the stunt "was all about making sure British produce is at the forefront of everyone's minds, particularly our government's mind when they're thinking about trade deals that include agriculture".
"It was just a bit of fun, playing on the government's own words. We're not trying to get involved in the political debate."
But it follows a difficult period for the apple sector after Brexit-related shortages of seasonal migrant labour hit production in the run-up to the October Brexit deadline.
Around 16 million apples – equivalent to 1,147 tonnes – were left unpicked by October. Overall, the harvest remained in line with last year's crop at 185,800 tonnes.