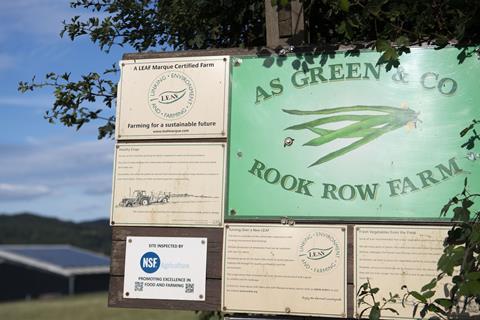 Public health bodies have been forced to trace more than 100 migrant workers from other UK farms following an outbreak of Covid-19 at a Herefordshire grower last weekend.
A total of 139 people who travelled on the same flight at the end of June as the workers who tested positive at veg grower AS Green & Co have had to be traced, according to Public Health England and Herefordshire County Council.
Seventy-six labourers are understood to be at other English farms and have been offered tests by PHE as a precaution. Meanwhile, the remaining 63 workers are understood to have travelled to farms in Scotland.
PHE said it was also tracing another group of workers who travelled to the UK in early July by bus. It is not yet known where these journeys into the country came from.
"Information gathered from both the recruitment company and from the workers themselves suggested those workers who tested positive were not showing any symptoms of Covid-19 at the time they travelled to the UK," said PHE Midlands health protection director Katie Spence.
"We know, however, that there is a risk that people can transmit the infection before – or without ever – developing symptoms, and this is why we've taken a precautionary approach to follow up workers who were on the same flight as the confirmed cases.
"It's encouraging that testing of this wider group has not identified any linked cases at other farms so far, but testing, tracing and monitoring of the situation continues."
The news comes after the number of positive coronavirus tests at AS Green & Co rose to 93 on Wednesday – up from the 73 who initially tested positive last weekend.
Up to 200 workers are understood to be self-isolating on the farm. A further four workers have left the site near Malvern despite being asked to remain there, however it is understood they have all been reached and are self-isolating.
Director of public health for Herefordshire, Karen Wright, said she expected the number of cases at the site to rise over the next few days but reiterated the risk to people in the local community was "low".
British Growers Association CEO Jack Ward said coronavirus cases on farms would be "incredibly damaging" but emphasised this was the first incident at a grower.
"It's important we keep things in proportion here," he said. "There are hundreds of [growing] businesses who have been employing people for a significant period of time without any problems."
It comes a matter of days after the NFU sought to reassure customers and consumers that growers were taking the risk of coronavirus outbreaks among fruit & veg pickers "incredibly seriously" and that the sector had been making "significant" investments in safety and prevention measures.
AS Green & Co supplies beans and greens to the mults and is also licensed to grow Tenderstem broccoli. It has not commented further on the increase in cases.