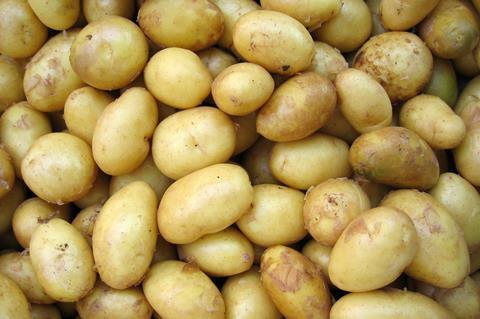 The drop-off in foodservice since the beginning of the pandemic has seen a substantial fall in the planted area of processing potatoes, according to industry sources.
Trade has remained sluggish since pubs, restaurants and QSR outlets started reopening after lockdown in July, with statistics from McCain showing it remains 25%-30% down year on year.
That led the major potato processor to work with its farmers to reduce planting for the 2020/21 crop by around 10% to reduce the risk of a surplus. Subsequently, AHDB estimates show this year's area for processing potatoes in Great Britain has plummeted to 34.8 kilohectares – a 7.1% (2.7 kha) fall compared with 2019. Against the five-year-average, it is a slightly smaller drop of 3.6%.
"Potato farmers have been hit particularly hard this year, initially having to battle against one of the wettest winters on record and then facing Covid-19 shutting down the hospitality industry, which threatened to create a surplus of wasted potatoes," said Daniel Metheringham, director of agriculture at McCain GB & Ireland.
"We saw some market recovery in August following the government's Eat Out To Help Out scheme, but things remain uncertain and market data shows the category is down between 25%-30% year on year."
Metheringham added McCain had sought to support foodservice by offering financial discounts to hospitality businesses and by working with its customers to further capitalise on the delivery and takeaway markets.
It comes as hospitality outlets in areas under the government's tier three restrictions, such as Liverpool and Greater Manchester, have been forced to close in a bid to limit the spread of Covid-19.
Meanwhile, the outlook for potatoes destined for retailers appeared to be rosier, with the planted area for pre-pack potatoes, rising 1.6% year-on-year to 44.3kha.
"This is not a surprise given the strong retail performance of fresh potatoes in supermarkets at the time of planting contrasting the lower foodservice demand.," explained AHDB senior analyst for potatoes, Alice Bailey.