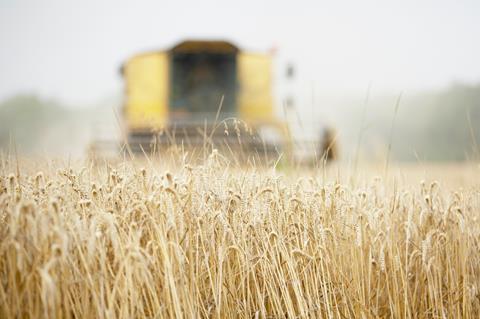 The government has announced plans that could pave the way for food crops to undergo gene editing processes.
Gene editing, which is currently regulated in the same way as genetic modification under EU law, could help plants become more resistant to pests, diseases and extreme weather events, and add extra nutritional benefits, according to Defra.
It could also help the UK's environmental agenda, the department said, as farmers would be able rely less on pesticides.
Announcing the launch of a three-month consultation on the move, Defra secretary George Eustice told the virtual Oxford Farming Conference that gene editing could help unlock major benefits for the rural economy.
"[It] has the ability to harness the genetic resources that Mother Nature has provided, in order to tackle the challenges of our age," Eustice said.
"This includes breeding crops that perform better, reducing costs to farmers and impacts on the environment, and helping us all adapt to the challenges of climate change. Now that we have left the EU, we are free to make coherent policy decisions based on science and evidence. That begins with this consultation."
The NFU welcomed the consultation, saying such a move could prove to be "absolutely critical" to British farming's aim of achieving its 2040 'net-zero' climate change target.
"We know that on its own, gene editing will not be a silver bullet, but it could be a very important tool to help us meet the challenges for the future," said NFU VP Tom Bradshaw.
"These new tools could help us address pest and disease pressures on our crops and livestock, increasing our resilience in the event of extreme weather events, as well as reducing our impact through a more efficient use of resources, resulting in lower emissions and less waste."
However, there was more cautious optimism from other parts of the growing sector. British Summer Fruits chairman Nick Marston told The Grocer that a move towards gene editing would require scientists and government to "communicate effectively" to the public that this would be a "natural mechanism".
Marston also urged government and the food industry not to forget, nor let shoppers forget, that fruit & veg "already have substantial intrinsic health benefits".
Meanwhile, environmental groups expressed disbelief at the announcement, with sustainable farming charity the Soil Association warning such a move could provide a backdoor for the introduction of GM processes into the UK.
"Gene editing is a 'sticking plaster' diverting vital investment and attention from farmer-driven action and research that could be yielding results," said Gareth Morgan, head of farming and land use policy.
"The focus needs to be on how to restore exhausted soils, improve diversity in cropping, integrate livestock into rotations and reduce dependence on synthetic nitrogen and pesticides. We want to see immediate progress in these areas rather than using Brexit to pursue a deregulatory agenda for genetic modification."
Defra said gene editing differed from genetic modification as it would only add DNA from the same species using natural methods that would otherwise take many years to achieve, rather than mixing in genes from other plants or performing other synthetic processes.