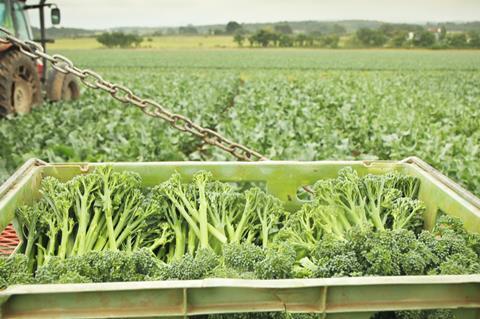 The NFU has said growers are taking the risk of coronavirus outbreaks among fruit & veg pickers "incredibly seriously", following the first reported incidence of an outbreak on a farm.
The farmers' body has moved to assure customers and the public after Herefordshire grower AS Green & Co reported 73 positive coronavirus tests among its workforce yesterday (12 July) and went into lockdown. As many as 200 staff are now understood to be self-isolating at the farm.
"Everything is being done to keep workers safe; their health and safety remains the priority," said an NFU spokesman.
"Across the sector there have been significant investments this season, from the use of additional safety equipment and PPE, regularly testing temperatures, and following government guidance created specifically for seasonal workers."
AS Green & Co, which supplies beans and greens to the mults, said in a statement on its website that it had closed the farm off to visitors and that "no workers are being permitted to leave". However, it did not give any detail over how or when the outbreak began.
"We confirm that we are working closely with Public Health England and the public health team at Herefordshire Council to support a number of our workers that have tested positive for Covid-19," it said.
"As a precautionary measure we have arranged for testing of additional key workers including management team members and visitors connected with AS Green and can confirm all results to date outside of our site have been returned with negative results.
"Our workforce and local community are our priority at this difficult time and we continue to follow the guidance of the relevant bodies to ensure that the spread of the virus is controlled and our workforce is supported."
AS Green & Co is also licensed to grow Tenderstem broccoli, though a spokeswoman for Tenderstem said it "has not been picking and packing the product since the outbreak was first registered".
The brand added it was "working closely" with the grower and was prioritising the health and welfare of its staff.
British Growers Association CEO Jack Ward said AS Green's coronavirus outbreak would act as a wake-up call for growers across the country.
"[This outbreak will] reinforce the importance of social distancing and hygiene and all the measures people are taking or are recommended just to make sure they've done absolutely everything to limit the chances," Ward said.
"This is the first outbreak we've had and we're well into the UK fresh produce season. Growers have done a really good job of getting this far [without incident] but we're right in the height of the UK fresh produce season and the country is very dependent on UK growers to keep the shelves stocked. The last thing we want is an interruption to the supply of fresh produce."
The news comes after several food processing plants were hit by coronavirus outbreaks in recent weeks. Eight factories across the UK have recorded cases.