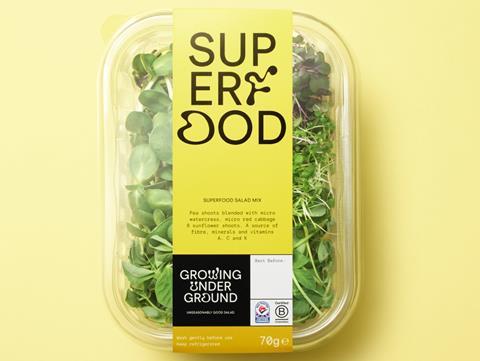 Vertical farming company Growing Underground has formed a strategic partnership with fresh produce wholesaler Reynolds to scale up production and distribution of its microgreens and salad mixes.
As part of the tie-up, Reynolds will distribute produce grown by the business from its original farm in Clapham, south London and from a new site in north London, which is due to open in 2022.
The move would allow Growing Underground to build on existing listings in retailers such as Tesco, Whole Foods Market, M&S and Farmdrop by expanding via Reynolds' national network – enabling its range to become available across the foodservice sector – while also growing its product offering, the supplier said.
The partnership would also help Reynolds reduce its food miles and the time between harvest and delivery, while "allowing us to offer a better-tasting, more nutritious and sustainably grown product", said MD Tony Reynolds.
Growing Underground started producing its hydroponically-grown veg in old air raid shelters under the streets of Clapham in 2015.
It said its growing methods used 100% renewable energy, no pesticides, and up to 70% less water than traditional farming practices.
It comes as owner Zero Carbon Farms has become what it claims is "the first certified B Corp vertical or controlled environment farm in the UK and Europe" – a development which also made it the first B Corp salad brand available in mainstream UK supermarkets, it claimed.
ZCF has also revamped packaging for the Growing Underground range with a new, "disruptive" design inspired by its vertical farming techniques. The new packaging was made of 100% recycled (and recyclable) materials, with the supplier also working towards launching fully compostable packaging in the near future.
Meanwhile, a recent fundraising drive, which attracted more than £4m investment, would be used to fund the expansion into the new north London farm, with work due to start later this summer, ZCF added.
Some 1,700 industry investors, including Reynolds, growers such as G's Fresh and chef Michel Roux Jr represented a "strong endorsement of what we're doing", said ZCF and Growing Underground co-founder Richard Ballard.
"Growing Underground continues to grow in every sense," he added. "We're looking forward to translating our carefully crafted model and sustainability credentials into an industrial-scale distribution network, accelerating the world's transition to carbon negative farming and continuing to transform the future of sustainable food production in the UK."