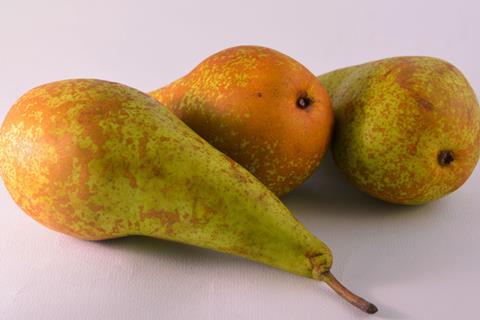 Pear prices are ballooning in the wake of shortages caused by last summer's heatwave.
Retail prices for a pack of pears hit peaks of £2.09 in February and March this year, remaining above the £2 mark into April – a rise of 6% on the same period last year, according to data from Edge by Ascential.
As of 8 May, retail prices have stabilised slightly, coming in at an average of £1.96 in UK retailers. However, they remain 6p (3.2%) higher than in May 2018.
But those retail price hikes paled in comparison with the ballooning values on the wholesale market, rising at a rate of 21.4% month on month in April, according to Mintec.
Last summer's heatwave affected stocks of the ubiquitous conference pear variety in particular, with stocks down by around 15% as a result of tough growing conditions in the wake of the summer heatwave. It follows a tough couple of years for the European pear crop, large swathes of which suffered frost damage in 2017.
"The quality of the European 2018 conference crop was also impacted following the warm weather last summer," said Ali Capper, executive chair of English Apples & Pears. "Some suppliers, particularly in Belgium, had to move fruit quickly and at lower prices to encourage sales. This directly affected UK prices, especially in the early and mid-season.
"Although total crop volume and fruit size in the UK was reduced due to water pressures, the 2018 pear crop overall had great taste and texture due to the long period of sunny weather."
The shortages come amid further concerns for this year's top fruit and berry harvests, following reports delays to visas and Brexit uncertainty are discouraging migrant workers from coming to the UK. The news has sparked fears of a repeat of last year's woes for growers, some of whom were forced to leave tonnes of fruit rotting in orchards after being unable to find workers to harvest it.