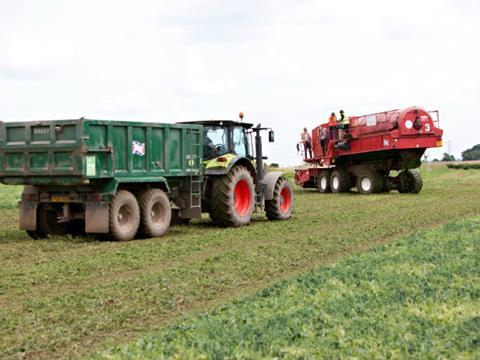 Supplies of peas and pulses could take a hit from the heatwave, which is causing crops to die in fields, growers have warned.

Faltering water supplies and scorching temperatures means crop yields are likely to be smaller than expected this season, according to president of the British Edible Pulses Association Franek Smith, who represents growers of dried peas and pulses.

"Though the life cycle of the plant means they die in the field and dry out before harvest, the hot weather is forcing them to die before they reach maturity," he said.

"The peas have only just formed in their pods, so stopping growth now means there are fewer and smaller peas in the pods, depreciating value of the yield. The number of pods is also reduced as top flowers have aborted production due to hot, dry weather."

If the hot conditions continue, growers could be forced to bring the harvest of dried peas forward, with crops likely to be ready well ahead of the usual late season August-September harvest.
Growers are also battling increased attacks from diseases and pests that thrive in warmer conditions, such as the pea moth - which targets marrowfat and split green peas, and the bruchid beetle - which is attacking beans.

Weather forecasters suggest there could be a reprieve from the heatwave, with Storm Chris set to blow in from the Atalantic Ocean, bringing lower temperatures and increased rainfall.

However, "the damage has already been done", Stephen Francis, MD of frozen pea supplier Fen Peas, told The Grocer.

"It's too late to rescue a lot of our peas, they overexerted themselves searching for water that's not there and all of our locations are harvesting below average. If we have rainfall now, it wouldn't be able to reverse the effects."

The warnings come as Great British Pea Week is underway, with growers planning to let consumers know the long sunshine hours have boosted the quality of garden peas and petits pois, despite lower yields.

"The week creates an uplift for the industry, growers contribute a few pence per tonne to fund it and it has paid off as we've seen consumption rise around 3% each year since we started," added Francis.