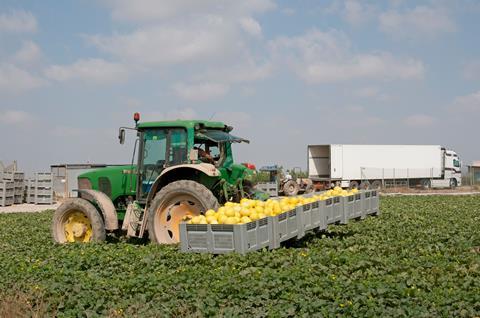 A combination of striking Spanish hauliers and a series of other supply chain disruptions has contributed to shortages of some key fruit & veg lines in the mults.
Analysis of Assosia data by The Grocer has shown a number of fresh fruit & veg SKUs – including salads and soft fruits – have been out of stock for more than two days across the mults this week.
Spain – a key supplier of fresh produce to the UK in winter – has been rocked by industrial action from lorry drivers over the past two weeks due to rising fuel costs, leading to big delays to the transportation of produce.
The impact of the strikes has been exacerbated by poor weather in Spain and north Africa, issues with paperwork and the impact of global container shortages, industry insiders have suggested.
"There are lots of delays," said Scott Porter-Ward, commercial and marketing director UK at Spain-based produce supplier Anecoop.
"We supply the whole of Europe and these issues have had a big impact on delays into retailers."Some of the pack houses have had to stop because they haven't had the product coming in and they have had to tell the people not to bother coming into work tomorrow."
Delays in shipments of "about one or two days" were also having an impact on pricing, added Jason Tanner, chairman of Premier Fruits, New Covent Garden Market.
Jonathan Olins, MD of importer Poupart, said the soft fruit specialist had seen "a three-day shortage of transport" last week. "And after that there were issues getting things from farms to packing."
In addition, drivers not on strike have been under pressure from those that were. "The drivers are scared as it can be quite violent at times, they have been slashing tires, beating drivers," said Porter-Ward.
But after an agreement was signed by the Spanish government on 28 March to support truckers with rising fuel costs, there are hopes the industrial action will soon begin to lose steam.
"In terms of driver availability in Spain, we would hope that would [now] improve over the coming days but it would be wrong to believe that it has not caused issues within the supply chain," said Nigel Jenney, CEO of the Fresh Produce Consortium. "If any part of the supply chain does not have adequate labour the whole chain fails."
Porter-Ward added: "They are working again but there are small pockets of troublesome areas. I think it is just going to calm down… Give it a week to 10 days and I think it will be back to normal."
However, even if the impact of the strike did lessen in the coming weeks, there was likely to be an ongoing impact on supply as some businesses had used stored products already in packhouses to continue supply, warned Porter-Ward.
Stored fruits typically allowed suppliers to add an extra week onto the season but Porter-Ward pointed out Anecoop had already used 20-30% of its stockpile just to get through the strikes.
Olins added that the strike was not the only issue, adding that there are generally more delays than normal at ports across the supply chain due to paperwork issues and containers not being where they should be.
"Customers have come to accept that it is not normal and realised that nothing is coming when it should. The smart ones are ordering one or two days in advance, although that is not possible for everything," added Olins.
Weather has also been cited as something that has "compounded the issue" within the Spanish supply chain as southern Spain has experienced two weeks of poor weather.
"We have had a lot of rain in the last couple of weeks which has caused quality issues" which the UK retailers won't accept due to quality standards, said Anecoop's Porter-Ward.
"There are several issues beyond industry and government control," Jenney added. "We are now as a food industry facing substantial cost increases across our production of food that is unprecedented."
Premier Fruits's Tanner added that while he felt they were starting to come out the other side in terms of delays, costs were still an issue, particularly as fuel prices have remained high.
"In many companies, they are looking at cost increases of double digit numbers and some at 20%-30% which is clearly substantial," said Jenney. "These are real issues our industry is expected to fund but in reality, they are not costs which can simply be borne by individual businesses and cannot be removed by greater business efficiency. That is already being done."
As seen in the wider fresh supply chain, rising costs are an issue across the board, with Spain's National Platform in Defence of Transport – who called the strikes – and assured the Spanish government this week they would continue with protests until they get more subsidies to cover costs, Spanish media reported.