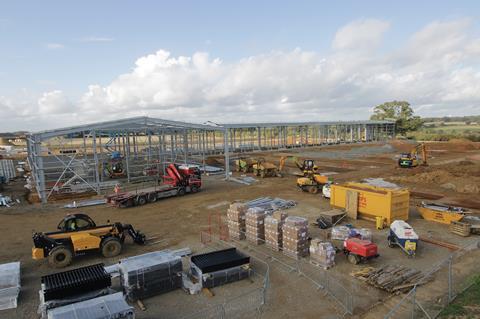 British vertical farming business Fischer Farms has started work on a new, £25m farm in Norfolk which it claims will be the "world's biggest" when it opens next May.
The facility will complement an existing vertical farming operation run by the business in Lichfield, Staffordshire, which grows a range of short leaf products via a stacked, biosecure, climate-controlled and fully automated system.
Backed by sustainable investment firm Gresham House, the new facility will create 25,000m² of growing space – enough to supply 6.5 tonnes of leafy salad (such as rocket and lettuce), leafy herbs such as basil and other fresh produce to UK supermarkets every day.
This figure equated to the equivalent of 72,000 90g salad bags per day, said the company's CEO Tristan Fischer, who added the new vertical farm could eventually grow its capacity to 75,000m².
Fischer Farms' plans would dwarf those of rival the Jones Food Company, which broke ground on what it claimed would be the world's biggest vertical farm at Lydney in Gloucestershire in September. That site, which is backed by Ocado, will provide 148,000 sq ft (13,749m²) of growing space once complete.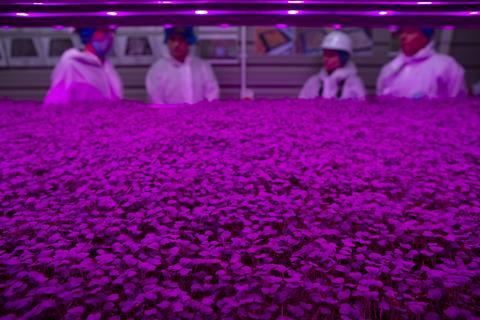 Tristan Fischer – who has a background in large renewable energy infrastructure projects – told The Grocer his company also had plans funding in place for an additional three farms across Europe, as part of a bid to become a "mass market producer that can compete on price with field-grown veg".
The business, which already supplies one well-known major veg brand from its Lichfield facility, was in discussions with a number of retail partners about supplying veg on "an affordable basis at scale", from the Norfolk facility, he added.
A Fischer Farms brand was also in the works, he added, with plans to launch by 2023.
"Our plans use the very latest vertical farming innovations, pioneering technology and 100% renewable energy to enable us to farm more responsibly, sustainably and more productively in order to feed a growing population," Fischer said.
"As our production process is strictly controlled, we will also be able to guarantee a consistently higher quality, fresher tasting end product."
Vertical farming enables the business to be much more productive using less space, he added.
"We can grow the same amount of food in our four-acre building that would take 1,000 acres of conventional British farmland. We will do it without using pesticides, herbicides or insecticides."
Fischer Farms' produce would be grown locally in the UK, would stay fresher for longer with no need to rinse and would slash food miles with its shorter farm to fork times, he pointed out.
"The volumes grown locally also mean we can produce food at price points comparable to field-grown crops too and provide retailers with greater reliability of supply throughout the year, reducing the reliance on food imports and creating the potential for more local jobs."
Over the next 10 to 15 years, Fischer Farms also had plans to scale up its operation and reduce its cost base to enable it to grow soya beans, rice and wheat in significant volumes and at price points that compared favourably to global commodity prices.
"Food supply chains and our planet are both under enormous strain," he said. "The Fischer Farms vision is to change the world by working with nature 24 hours a day, every day of the year, to produce the freshest, safest and highest quality British-grown produce all year round in the most environmentally sustainable way."