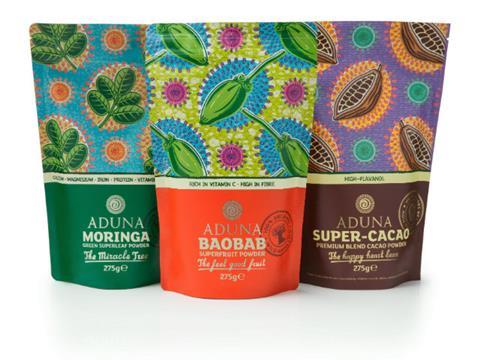 Health food brand Aduna has hit its £325,000 crowdfunding target just two days after launching the campaign to raise cash for the next stage of growth.
The business' range of African superfood powders and energy bars are already sold in all 750 Holland & Barrett UK stores, as well as in Ocado, Whole Foods and Planet Organic.
The money raised from the Seedrs campaign will be used to launch a new product range, expand distribution and build the Aduna team.
Aduna is currently overfunding, with £445,000 pledged from 322 investors so far in the convertible campaign, which is different to the usual equity-based pitches normally hosted by crowdfunding platforms.
Cash invested will convert into equity at a later date at a discount (20% in Aduna's raise) to other new investors in the next fundraising round.
Aduna is planning a larger funding round to raise between £1m and £2m from institutional investors later in the year.
Co-founder and MD Andrew Hunt said: "We are delighted to have reached 100% of our target within just two days of going public on Seedrs. The volume of investors who have come on board and the speed with which we have reached our target are evidence of growing investor appetite for businesses that combine high returns potential with a positive social impact.
"By sourcing directly from small-scale producers, we create sustainable livelihoods for rural households: we are a business driven by profit and purpose. This new raise is an opportunity for investors and customers to be part of Aduna's future success, while making a meaningful contribution to the lives of women in some of the most remote parts of Africa."
Founded in 2012 by Hunt and Nick Salter, Aduna aims to create sustainable livelihoods for small-scale producers in Africa with its superfood powders and energy bars made from cold-pressed fruit and nuts.
In 2016, revenues hit £1m and the business achieved its first two profitable months. The products are sold in 2,000 stores in 18 countries – after entering five new markets in 2016 – and the business has tripled baobab production in Northern Ghana.
Hunt added the business is aiming to become the world's leading Africa-inspired food and drink brand, with turnover forecast to reach £10m by 2020.
Aduna is benefitting from a boom in consumer demand for healthy, natural food and drink products, as well as an increase in awareness for ethical sourcing and Africa emerging as a major new trend within the industry.
Stephen Dawson, former Chairman of ECI Partners and Aduna Investor, said: "I've been an investor in private equity for the last 40 years. I'm an investor in Aduna and I plan to invest further in the current financing round.
"Aduna is that rare combination of achieving both financial and social returns. On the financial side, it has it all: a high-growth global market, an award-winning brand, an exceptional team and serious market traction. On the social side, it has a mission to transform the lives of millions of rural African households."