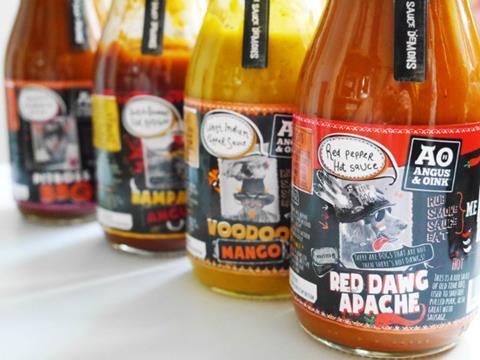 Barbecue sauces brand Angus & Oink is close to reaching its fundraising ambitions on the Tesco crowdfunding site to help upscale production and launch a new product.
The Scottish business, which produces hot sauces, rubs and a range of sausages, as well as craft beer, has so far raised almost £4,000 of its £5,000 target on the BackIt platform.
Founders Scott and Malissa Fraser, who launched the brand in 2014, plan to plough the majority of the cash into production, as well as introducing a Mexican-inspired sauce to the four-strong range. The pair were approached by Tesco to participate in its BackIt scheme to assist with business and product growth.
"We are constantly looking at ways to evolve the product range so the decision to add a new sauce to the line was a natural progression for us," Scott Fraser said.
"2016 has been a great time of expansion for the business with the recent launch of our beer range, as well as continuing to grow our large and loyal brand following through our website and social media channels. To obtain the funding to upscale production and introduce Phat Taco would be the icing on the cake and a fantastic way to start 2017."
Scott and Malissa were inspired to start the business after travelling across the southern state of the US and South America.
"We are devoted to the BBQ culture of the southern states of the US and South America and want to present an all-encompassing BBQ product experience to our customers," Scott added.
Tesco launched the BackIt initiative in September to raise money for small suppliers and help discover business talent from across the UK. Site users are given 48 days to raise money and walk away with nothing unless they hit their targets.