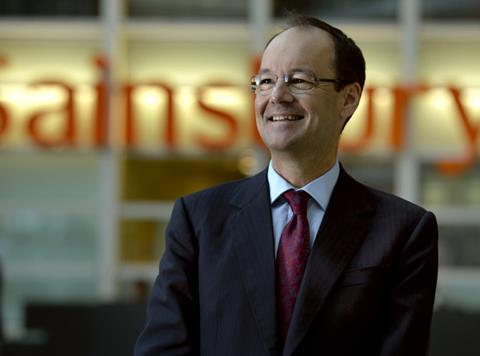 After Mike Coupe said today that the listed supermarkets were facing "a perfect storm" some in the market have started wondering how fierce that storm will have to get before the grocers look to the equity markets to bolster their balance sheets.
Speculation about a Tesco rights issue was circulating yesterday, after Nomura said Tesco's declining credit metrics made a rights issue "more likely" as preserving its investment grade status could require £2bn to be raised.
Tesco shares subsequently fell on the rumour yesterday (although Nomura concluded such a deal "would not be rational"), while today it was Sainsbury's turn after analysts at both JP Morgan Cazenove and Societe Generale raised the prospect of an emergency rights issue amid collapsing sales and margin.
SG wrote today: "This conference call strengthens our view that the sector is facing unprecedented pressure on earnings and that those players unable to improve their top lines in the coming 12 months are likely to be in danger and/or will have no other alternative than strengthening their balance sheets quickly (rights issues?)."
While Cazenove added: "We think it is unrealistic to believe that its quality positioning will make it immune to Tesco's inevitable price repositioning. We remain of the view that the negative top line trends will likely lead to a major cut in the dividend and a potential rights issue."
Certainly Sainsbury's has some big decisions to make soon – as evidenced by today's announcement a wide-ranging strategic review is underway.
However, finance director John Rogers was keen to play down the idea that a rights issue was one of the options under consideration. "We don't foresee the need to raise equity," he told journalists today.
It certainly seems likely that Sainsbury's – as arguably the best placed of the listed supermarkets - has a number of other paths to explore before a rights issue becomes necessary.
But Sainsbury's needs to find some cash from somewhere if its organic growth remains (as expected) in negative territory and it is still committed to compete with its contemporaries on price.
Sainsbury's stressed it will strive to maintain the differentiation it enjoys in terms of instore standards and customer service – which hints that a wide-ranging cost cutting operation is pretty much off the table. This leaves the most likely option as Sainsbury's following Tesco in cutting capital expenditure (probably targeting store refreshes as it will want to continue growing its convenience estate) and cutting its high-yielding investor dividend.
Although Morrisons resisted expectations of an interim dividend cut in September, it would probably be more of a surprise if Sainsbury's maintains its own dividend level when it presents the results of its strategic review on 12 November.
Tesco's position in terms of raising equity looks more complicated – though Tesco too has said it has no intention of exploring a rights issue. The supermarket is on negative watch from all three global ratings agencies and may need more fundamental action to sure up its balance sheet than Sainsbury's in the short/medium term.
The lack of Tesco baggage of new recruits Dave Lewis and FD Alan Stewart also means they're potentially better positioned to take drastic action than Coupe and Rogers who has been an integral part of Sainsbury's strategy for many years.
However, it is difficult to see Tesco being able to raise new equity – even if it wanted to - until the current mess over its £250m profit overstatement and related accounting issues are cleared up. Tesco hopes to have it sorted by the time it issues its delayed interim results later in October, but now with the FCA getting involved today it looks as though the cloud may hang over Tesco for some months to come.