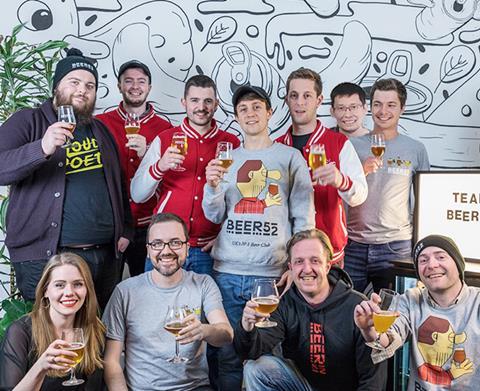 Craft beer club Beer52 is seeking to tap investors for millions of pounds in funding after lockdown restrictions fuelled soaring demand this year.
The Edinburgh-based business has hired advisors at Houlihan Lokey to explore strategic options, according to City sources.
Beer 52 co-founder Fraser Doherty said the start-up was raising investment to help scale up and expand the concept overseas.
He added the business was "open-minded" about the exact nature of the fundraise and had not set a specific funding target.
Founded by Doherty and James Brown in 2013, the subscription beer club has seen growth accelerate rapidly in 2020 as a result of the coronavirus pandemic as consumers bought more alcohol to drink at home as pubs have been shut or under curfews.
Beer52 now has almost 200,000 active subscribers, making it the most popular beer club in the world, with the community having drunk more than 20 million beers together, according to Doherty.
Members are sent a package of eight new craft beers from a new city or country each month, with recent offerings coming from the likes of Melbourne, New York, South Africa, South Korea and New Zealand.
Earlier this year, The Financial Times named Beer52 as the fourth fastest-growing ecommerce business in the UK.
"We're raising investment to help us scale up and expand our concept internationally, which will see our team in Edinburgh grow from 65 currently to over 100 in the coming years," Doherty said.
He added: "We have not set a specific funding target, part of what we are looking for is the right partner who has experience of scaling up an ecommerce business internationally, so are open-minded about what the exact fundraise looks like."
The business secured a seven-figure funding support package from the Royal Bank of Scotland in the summer to help it meet the "exceptional" demand for its service.
"Our growth throughout 2020 has given us the chance to support our brewery friends and partners who have been having a tough year with all the pubs closed," Doherty said.
Breweries from around the UK and Europe have taken part in Beer52's 'Cyberfest' livestream beer festivals, which have attracted more than 65,000 participants, with the next event taking place on 11 and 12 December.
The business added that its 'virtual Christmas party' was also proving popular with offices and families as a way to celebrate together safely this year. Groups of ten or more are given their own video chat bar on the 'Cyber Alley' street of online bars.