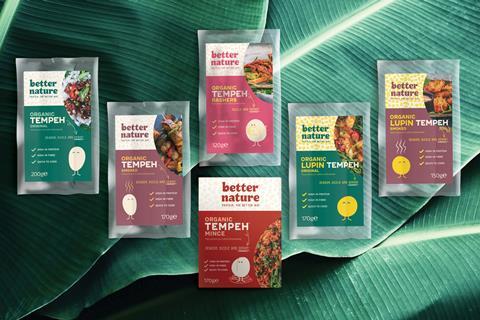 Vegan startup Better Nature has raised £430k of seed funding as it aims to take clean-label meat alternatives to the mainstream.
The two-year-old brand specialising in tempeh, a fermented plant-based protein source typically made from soyabeans, will use the funds to accelerate NPD. This would include research into making its products a complete source of nutrition by adding essential minerals and vitamins, it said.
Furthermore, the company would continue to invest in marketing to become the "go-to brand" for natural protein alternatives, it added.
"Our mission has always been to take tempeh to the mainstream," co-founder and CEO Christopher Kong told The Grocer. "We really want to be a pioneer of whole foods, plant-based meat alternatives.
"There are so many exciting brands out there doing such fantastic work in making plant-based eating sexy, but their ingredients lists are not the prettiest.
"Tempeh, being this all-natural and delicious meat alternative with incredible nutritional credentials, can absolutely fulfil the current need for clean-label whole foods plant-based alternatives."
Better Nature's six-strong range – including mince, rashers and smoked tempeh – is currently available online and across 70 retail locations including Planet Organic, where it launched last week, As Nature Intended and TheVeganKind Supermarket.
Early-stage discussions are also ongoing with other major retailers such as Ocado, Tesco and Sainsbury's.
New products, including a burger variant, strips and ribs, are in the pipeline for development with a ready-to-heat lupin tempeh product – called Better Bites – to be rolled out in early May.
The latest funding round, led by serial investor and technologist Nicholas Owen Gunden and Capital V founder Michiel van Deursen, marked Better Nature's second, taking the total raised since inception in 2018 to £750k.
Van Deursen, who oversaw the expansion of The Vegetarian Butcher across Europe, said Better Nature was "very well positioned to play a huge part in the consumption of future foods".
"UK growth will be massive and I am looking forward to seeing them progress and roll out internationally," he added.
Better Nature is open to explore export opportunities but Kong added that its primary focus remained on the UK market.
He added: "As an early-stage business you need to be laser-focused so, for the moment, the UK remains our priority.
"But given our mission to take tempeh into the mainstream and create a world that is better for people, the planet and animals, we cannot ignore international markets where the consumption of animal-based products is only projected to rise."