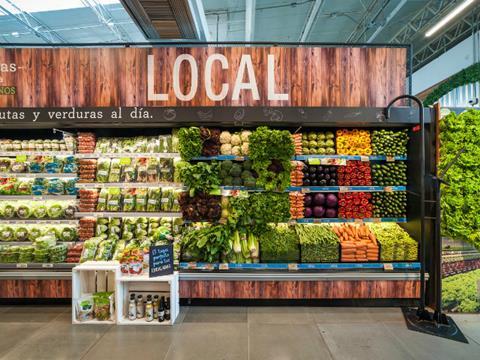 French hypermarket chain Casino hopes to raise €1.5bn through asset disposals to strengthen its balance sheet.
The group said the disposals, primarily relating to real estate assets, are part of its "business model transformation and accelerating deleveraging in France".
Half of the €1.5bn of disposals will be completed in 2018, with the other half in the first part of 2019.
The new plans are in addition to ongoing disposal process of Via Varejo in Brazil.
Casino said it will "will continue its strategy based on in-store innovation, digitalisation of the customer relationship and partnerships with major e-commerce players Ocado and Amazon".
It also reported "good operational performance" in its home market and expects second quarter like-for-likes to be higher than in the first quarter.
In the first half it is on target to exceed its annual profitability growth objectives in France and meet its debt reduction targets.
The group is targeting more than 10% organic growth in food retail trading profit in France in the full year 2018 and more than 10% organic growth in consolidated trading profits.
It has also pledged to reduce net debt in France.
This self-financed reduction in debt along with the proceeds from the asset disposals will enable the Casino Group to reduce its net debt in France by around €1 billion by the end of 2018.
It added that the continued strong performance of its formats together with the acceleration of new profitability drivers (including purchasing alliance with Auchan, data monetisation, development of GreenYellow, Casino's subsidiary specialised in solar and energy efficiency) will enable it to improve its profitability in 2019 and 2020 at a pace similar to 2018.
Ratings agency Moody's stated: "With these new asset disposals, Casino continues a deleveraging program that started in 2016 with the sale of its operations in Thailand and Vietnam.
"Despite intense competition, Casino has confirmed that French operations should see their EBIT grow by at least 10% and generate positive free cash flows, which should help to decrease debt further. However, Casino's share price has substantially declined in recent months, which weighs on the credit quality of Rallye, and will not alleviate the pressure on Casino's financial/dividend policy."
Casino's share price is up 1.7% to € 33.49 after the news last night having surged to €36.09 soon after opening.
The shares remain down by almost 35% year-on-year.