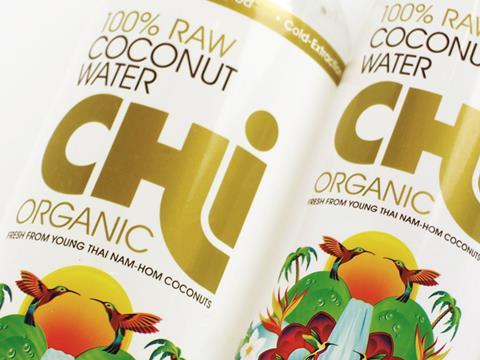 Coconut water, milk and oil brand Chi has secured £1.5m from high net-worth backers and overseas distribution partners to accelerate growth.

The investment came after a crowdfunding pitch for £750k on Crowdcube failed to hit its target.

Founder Jonathan Newman said it was also currently locked in talks with a major soft drinks group over a UK distribution deal, alongside the sale of a minority stake.
"If we can reach an agreement it would exponentially grow our revenue, distribution and increase our margins," Newman added.
Chi has grown rapidly since film director Jonathan Newman launched the premium brand in 2012, with its range of coconut water variants, coconut milk and coconut oil listed in thousands of Waitrose, Tesco, Sainsbury's, Asda, Ocado, Booths, WH Smith, Planet Organic and Whole Foods stores. It sold more than 1.5 million products in 2016, racking up revenues of close to £2m, including exports to 30 countries.
The business needed additional working capital to continue to fuel its growth at home and overseas, as well as developing new products and for marketing the brand, and turned to crowdfunding first before securing the money from private investors.

Chi added to its 12-strong range in January with the launch of an organic cold brew coffee and a matcha tea - both sweetened with coconut water and made using HPP processing.

The products were launched into Whole Foods in February ahead of a wider retail release.

In addition, Sainsbury's increased its store distribution of Chi's raw coconut water variant into its London convenience network following a trial across 90 c-stores across the UK in November.