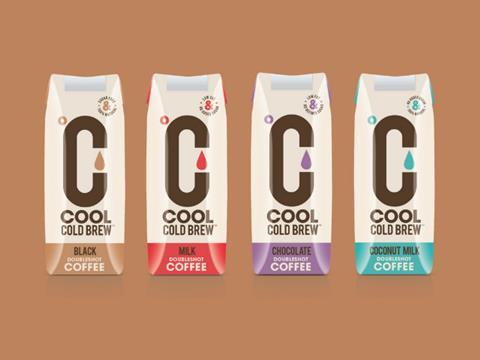 Cold brew coffee start-up Cool Cold Brew has beaten its £100,000 crowdfunding target to help bring its four-strong range of no-added sugar drinks to market later this month.
Founded by Joe Devereux-Kelly in 2015, the business is currently in talks with multiple retailers, including Selfridges and Sainsbury's, with the aim of winning listings for 2018.
The team has spent the past 18 months developing the four different flavours (black, milk, chocolate, coconut) and has secured interest from 20 independent stores and three regional distributors.
Manchester-based Cool Cold Brew hit its £100,000 target on the Crowdcube platform in just 100 hours and has since raised more than £150,000 from 258 investors for a 23.4% stake, valuing the business at £500,000.
The money will be used to bring the new range to market in later August and grow the Cool Cold Brew brand.
"If you look at the current range of ready-to-drink chilled coffees, the average product contains over 19 grams of sugar, that's the equivalent of 4.75 teaspoons and most of the products are highly unnatural," Devereux-Kelly said.
"We're not compromising on taste or sweetness either, our range has been developed for the quality coffee flavour and with just 4.2 grams of naturally occurring sugar on average per carton across the range.
"The pricing point, branding, health advantages and on-the-go nature of Cool Cold Brew makes it a chilled coffee drink for everyday enjoyment and retailers are already showing great interest."
He added: "We believe by launching new flavours, variants and formats in different market spaces such as health and fitness to alcohol and more, we can grow these categories and go onto generate a strong return for our investors."
Cold brew coffee is made by brewing coffee grounds in chilled water for more than 16 hours creating a less acidic, less bitter and naturally sweeter chilled coffee drink.
Cool Cold Brew's range is made with sustainably sourced Rainforest Alliance coffee and will sell for an rrp of £1.90 for 250ml.
.