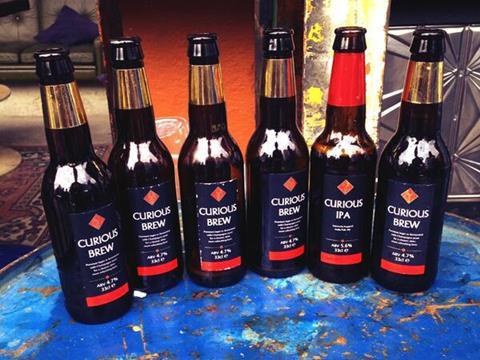 Chapel Down has increased its fundraising target for its fast-growing beer and cider business Curious Drinks to £3.7m after smashing its £1m crowdfunding bid in less than a month.
The listed English wine producer has raised £655k of the £1m total from 529 investors through a crowdfunding campaign on Seedrs, with the remaining £345k sourced through a share placing, including £275k from directors of Curious Drinks and Chapel Down.
It is keeping the offer open on the crowdfunding platform until February 2016 with the intention to raise a maximum of £3.65m.
Management are planning to use the cash to enable Curious Drinks to meet growing demand, at home and overseas, and to build a brewery and visitor attraction in Ashford, Kent. The brewery, expected to be fully operational by December 2016, would enable Curious Drinks to consolidate its brewing and bottling operations into a single site, significantly enhancing margins and efficiencies, the business said.
Proceeds will also be used to further strengthen the Curious Drinks team, enhance its domestic and international routes to market and develop the brand.
"We are delighted with how the Curious Drinks fundraising has gone in its first four weeks and are truly humbled by the phenomenal response we have received," said Frazer Thompson, CEO of Chapel Down and Curious Drinks.
"We have seen a huge amount of interest from both customers and individual investors. We believe this is testament to the fact that these are not only great beers and cider but also a worthy investment opportunity, and we hope to welcome many more shareholders to Curious Drinks in the coming months."
Individual investments on Seedrs ranged from £100 to £25,000, with about a third of the money coming from Curious Drinks' home county of Kent.