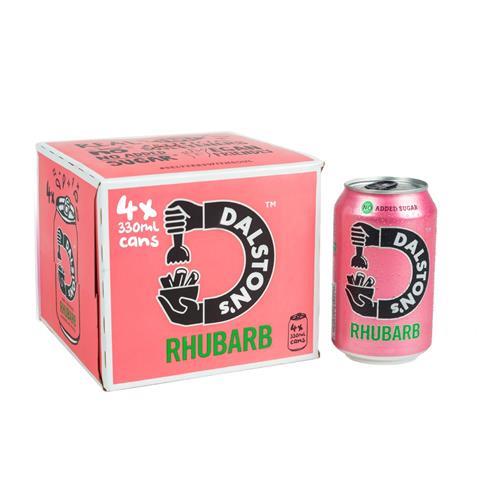 Dalston's has hit a £400k crowdfunding target within 24 hours of launching a campaign to help the challenger drinks brand's ongoing recovery from the Covid pandemic.
The business is continuing to over fund and, at the time of publishing, has raised almost £460k from more than 420 investors on the Seedrs platform, valuing Dalston's at £8m.
It comes after the East London supplier celebrated a record-breaking month in June, selling more than 600,000 cans for the first time and generating sales of almost £300k.
The money from the crowd is earmarked to fund recruitment in the sales team as the business targets new distribution gains, as well as investment in consumer and trade marketing to raise brand awareness further.
Founder Duncan O'Brien said: "I'm excited to rebuild our sales endeavours and bolster our marketing to ignite the opportunity for healthier soda, especially now that our no-refined-sugar recipes are coming in under the HFSS threshold, which technically makes Dalston's a 'healthier soda'."
He added the move away from refined sugar had seen an uplift in grocery rate of sale this year, which helped during the pandemic.
Dalston's was forced to focus more on the off-trade and D2C markets throughout 2020 as out-of-home, which accounts for half of the business, was hit hard by lockdown.
Rising grocery sales helped offset the declines and keep Dalston's in growth last year, with the brand's range of all-natural, soft drinks available at more than 2,700 distribution points, including the likes of Sainsbury's, Waitrose, M&S, Asda, Ocado and Amazon.
Turnover in 2020 closed in on £2m as the business sold four-million cans.
Dalston's moved away from glass bottle to cans in 2017, with strong triple-digit year-on-year growth since the launch of the new range.
O'Brien founded the business in 2012 as Dalston Cola to offer an alternative to the big names in the category.
A brand refresh followed in 2016 as Dalston's brought in fmcg veteran Giles Brook as a minority investor and expanded its offering into new flavours.
Today, the brand offers a five-strong range (cherry, elderflower, ginger beer, lemon and rhubarb) of canned soda made from real fruit and sparkling water. Dalston's also sells a duo of hard seltzers, as well as RTD alcohol-free gin & tonic.
"Our ambitions for the future are to promote further as we've got evidence this successfully brings long-term Dalston's drinkers into the brand," O'Brien said.
"And I'd like to do some marketing to raise awareness of Dalston's sustainability credentials. Our drinks are now carbon neutral across the supply chain, and we're proud to support biodiversity and promote smaller farms such as our rhubarb juice supplier Pixley Berries and elderflower distillate supplier Blue Sky Botanics. It's great to see food sustainability finally emerge as an issue of widespread concern."