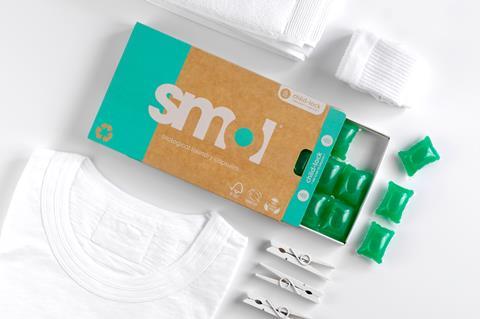 DTC eco-friendly detergent startup Smol has received £8m in funding to accelerate growth after seeing interest for its products triple since lockdown.
The Series A financing round in the brand, founded by ex-Unilever executives Paula Quazi and Nick Green, was led by venture firm Balderton Capital, with participation from JamJar Investments.
Smol, which already provides 1.5 million washes a week to its 250,000 users, will use the funding to expand its services to more households after reporting skyrocketing interest since the start of the coronavirus crisis.
The funding will also see Smol push into new product categories, expand further into new markets and bolster its team.
"With our busy lives, laundry, and particularly shopping for laundry detergent, is hardly something the majority of us look forward to," said Quazi.
"Having seen how the industry has barely innovated in over a hundred years we launched Smol to take the hassle out of washing for families whose laundry needs have been ignored for decades.
"We're delighted that Balderton and JamJar share our vision, and believe in our potential to revolutionise how we wash our clothes, dishes and beyond."
Customers receive Smol directly to their homes, at a 50% discount on normal brand prices. The detergent range is also eco-friendly and vegan.
Smol recently added its first-ever fabric conditioner, in a bottle made from 100% post-consumer recycled plastic.
In March, the brand launched what it claims to be the "world's first" 100% plastic-free, child-lock packaging for its laundry and dishwash products.
The brand also offers a return scheme for refill and reuse and for every four bottles returned will donate 24 laundry washes to charity.
Suranga Chandratillake, partner at Balderton Capital, added: "Household cleaning is a great example of a product category where giant incumbents have ignored potential innovation.
"Smol has exploited that complacency, built a product people actually want and, as a result, got people excited about laundry and dishwashing all over again."