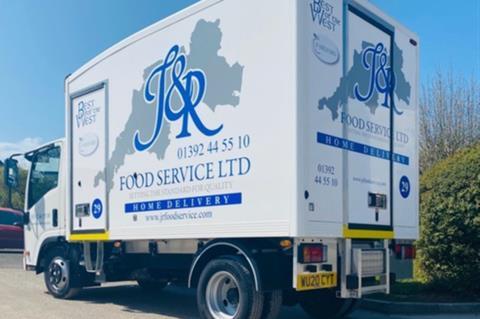 Wholesaler J&R Food Service has secured a six-figure funding package under the government's Coronavirus Business Interruption Loan Scheme (CBILS).
The cash, provided to the Exeter-based wholesaler by HSBC UK, was used to diversify the business into supplying food and essential items to households across the south west, with over 9,000 people using the service so far.
The company, which under normal circumstances provides frozen, chilled and ambient food to the south west foodservice industry, had lost almost 95% of its business due to the coronavirus outbreak.
It would continue to operate this new home delivery service even after the pandemic had passed, it said.
J&R chairman John Whitechurch said without the loan the business "would be in a very different position to the one we're in now".
"With the foresight of our MD, we've turned J&R Food Service from a wholesale business into a much-needed retail business almost overnight and thanks to the bank's speedy response, we had the cashflow we needed to get it off the ground," he added.
"Not only has this allowed us to serve our local community at a time of crisis, but it's ensured we're financially fit for the future."
James Jordan, HSBC head of corporate banking in Devon, Cornwall and Somerset, said: "J&R Food Service has shown incredible agility and ingenuity at a time of considerable uncertainty for the foodservice industry."
Many businesses have struggled to access the government loan packages, blaming unclear elegibility criteria and difficult processes.