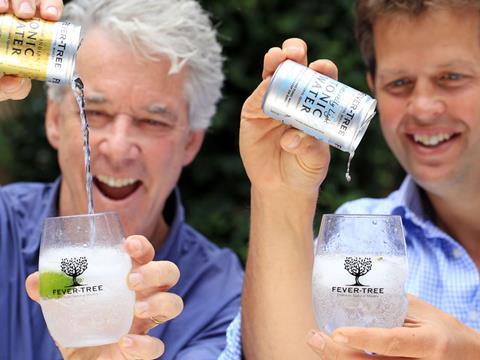 Fever-Tree's (FEVR) two founders have cashed in almost £18m of their shares in the premium mixer brand to satisfy investor demand following another year of rapid growth.
Executive deputy chairman Charles Rolls sold 1.9 million of his shares at 635p each for a total value of £12.3m and CEO Tim Warrillow scored a £5.4m payday after releasing almost 854,000 shares at the same price.
The sale, which amounted to about 10% of the pair's remaining holding, was the result of increased demand from institutional investors wanting to get a piece of Fever-Tree after a stellar first full year as a listed business.
Revenues soared 71% to £59.3m and adjusted EBITDA jumped 82% to £18.2m in 2015 as the popularity for the posh mixers grew at home and abroad.
A spokesman said the company wanted to increase the liquidity in the stock and give investors chance to gain shares which weren't available on the open market.
Rolls now owns 17.4 million shares in the business, worth roughly £112m, and Warrillow holds 7.7 million, worth almost £50m. The pair still control more than 15% and more than 6% of Fever-Tree respectively.
Fever-Tree, founded in 2005, has been one of the big success stories in fmcg in recent years. It floated at 134p in November 2014 with a valuation of £154m.
Warrillow and Rolls, along with private equity backer LDC and other investors, pocketed a huge windfall from the £93m of proceeds raised from the IPO and sale of 60% of the shares.
Since then the share price has rocketed – increasing 244% in 2015 – to reach highs of close to 700p in February this year, giving the business a market capitalisation of more than £800m at the time. The stock has since softened and is currently trading at about 650p.