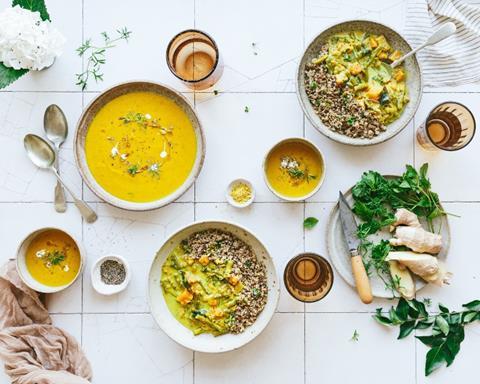 Ayurvedic ready meal delivery challenger FoodHak has closed its first multimillion-pound investment round to take on the recipe kit market.
Entrepreneur Sakshi Chhabra Mittal – a member of the Indian billionaire family dynasty – launched the London-based business at the start of the year.
The $5m (£3.8m) round was led by London-headquartered Firstminute Capital, a $300m (£223m) seed capital fund run by Brent Hoberman, co-founder lastminute.com and Made.com, with a number of high net-worth angel investors also joining the raise.
Mittal developed FoodHak – which stands for Healthy Asian Kitchen – after being diagnosed with a liver disease, which she claims to have beaten by transitioning to a vegan-based diet.
The business combines clinical research data, AI and machine-learning to helps its chefs design a range of recipes, which so far include ayurvedic curries, soups and plant-based burgers, that are personalised to individual customers.
Subscribers receive a weekly box with premium ready-to-eat meals created in consultation with medical experts. Prices for three meals a week for two customers start at about £45 per week.
FoodHak claims the foods are low GI, anti-inflammatory and free of alkaline, gluten, dairy and refined sugar.
"I am delighted to bring on board a wide spectrum of investors who believe in the power of food science and want to help fuel this food revolution," Mittal said.
"It's a great testimony to the product, too."
She added: "I developed a liver disease when I was pregnant with my first child. I changed my diet, turned flexi-vegan and it transformed my life and health. With FoodHak, I want to inspire others to do the same, to feel healthier and hopefully extend their lives."