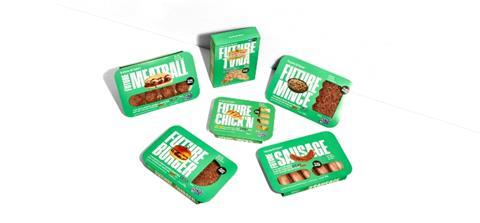 Brazilian food tech firm Future Farm has secured another $58m (£42m) from backers to expand its meat-free brand into alternative milk and dairy products.
The business, which launched in the UK in January 2020, is now valued at more than $400m and growing at 960% a year in Europe.
The latest series C round, co-led by Rage Capital, brings the total investment in the brand to $89m, which helped accelerate the development of new products, as well as pushing the business into more than 20 international markets.
Future Farm, which creates its plant-based products using 3D extrusion, enzymes, and biotechnology, will put the money towards advancing its trademarked 'True Texture Technology', which aims to mimic the look, feel and flavour of meat products.
The business will also invest further in its goal for 100% sustainable and plant-based packaging.
"This investment ignites a new chapter in Future Farm," co-founder and CEO Marcos Leta said.
"We are creating a robust 4.0 plant-based platform with meat, milk, and dairy. Twelve innovations are now being developed to make slaughterhouses and dairy products even more obsolete. We're going to deliver flavour and joy to anyone who loves any animal protein, without pressure."
After launching plant-based burgers, sausages, meatballs, mince, chicken, and, its latest innovation, tuna, Future Farm plans to expand into the plant-based drinks segment, with a focus on European and American markets.
Leta launched Future Farm in 2019 alongside Alfredo Strechinsky, with the pair already having sold their natural juice brand Do Bem to AmBev – the Brazilian subsidiary of brewing giant AB InBev – in 2016.