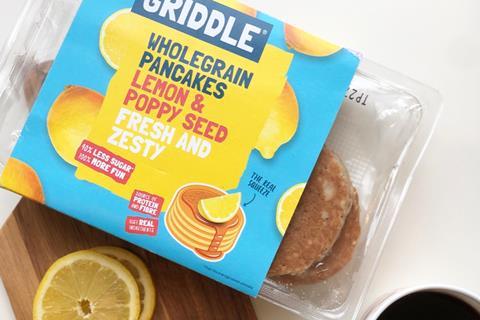 Pancake startup Griddle is about to launch its first crowdfunding campaign, a week after winning its first "major" multiple listing.
The brand, a participant in Seedrs accelerator programme, will publicly launch on the platform tomorrow (28 November), seeking £120k in exchange for an 11% stake.
Griddle plans to use the cash raised to scale up and gain distribution traction after securing a listing in 94 Sainsbury's stores as part of the retailer's Future Brands initiative last week.
The company's range, a Classic wholegrain low-sugar pancake and a Lemon & Poppy Seed version, is also stocked by As Nature Intended and a few other independent shops. Discussions are ongoing with Ocado, Waitrose and Whole Foods Market.
"We will predominantly use the funds to scale up," said co-founder Sophie McGregor. "Our business model isn't based on small farm shop sales and, as much as we enjoyed that period and worked closely with each account, we reached a stage where we now want to grow."
She added: "We have had our time doing market research and developing the brand and now it is about executing, and you can't execute without cash.
"For us it comes down to 'go big or go home'."
Most of the funds will cover marketing expenses to "get the brand name out" and support working capital, she added, stating that the brand would be open to overfund up to £200k.
Griddle pancakes are wholegrain, contain no preservatives and have less than 5g of sugar per serving.
However, the brand is keen not to be perceived as a "healthy thing people have and then the trend is gone", McGregor added.
"We want to be a staple product redefining a category that hasn't had that sort of innovation yet."
A Double-Choc Chip pancake as a well as a new vegan SKU are set to join Griddle's lineup in early 2020.