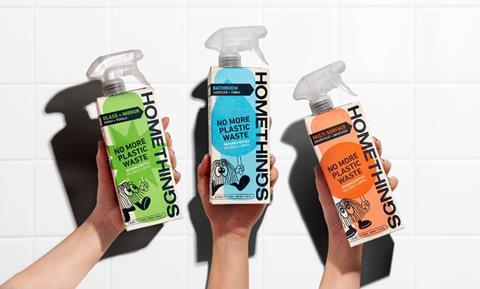 Refillable home care challenger Homethings is closing in on a £450k crowdfunding goal to support retail listings and continuing expanding online.
It has so far – at the time of publishing – raised almost £410k from 97 investors on the Seedrs platform, with the round valuing the brand at £7.2m.
The 2022 Grocer Gold Startup of the Year winner makes waterless concentrate products that consumers can refill at home using tap water, reducing the need for single-use plastic in the category.
Founders Tim Keaveney and Matthew Aubrey initially launched a range of effervescent tablets for surface care sprays in 2020, followed by a swathe of NPD, including plastic-free dishwasher tabs and laundry pods.
"Homethings is about shaking up a dusty old category and helping people change the way they clean for good," Keaveney said.
"This fundraise further strengthens our ability to bring shopper-led innovation to the category off the back of some stellar growth."
Homethings secured a nationwide listing with Waitrose in 2022 and is also stocked by Whole Foods Market and Booths. It also operated a DTC site.
The business has generated more than £3m in sales since launch, registering year-on-year growth of 118% in 2022, and shipped in excess of 170,000 e-commerce orders from its Manchester warehouse.
It also claimed to have saved more than 540,000 plastic bottles, 43 tonnes of single-use plastic and in excess of 270,000 litres of water being transported unnecessarily.
"At a time when government is rowing back on commitments to sustainability and net zero, it's more important than ever that supermarkets show leadership and offer best-in-class eco innovation to the huge group of 'eco-active' shoppers in the UK or risk losing them to the stores that do," Keaveney added.
The funds from the crowd round will be used to support new retail listings with trade and in-store marketing, as well as hiring staff to bulk up the commercial team.
It will also continue to scale the e-commerce business and invest in product innovation.
Homethings previously secured funding from Deborah Meaden and Peter Jones following a successful appearance on Dragons' Den and raised almost £1m in a 2021 round on Crowdcube.
The business – which unveiled a new look for its cleaning range earlier this year – also won a £135k grant from the government's Innovate UK agency to launch a tap water refillable washing-up liquid.