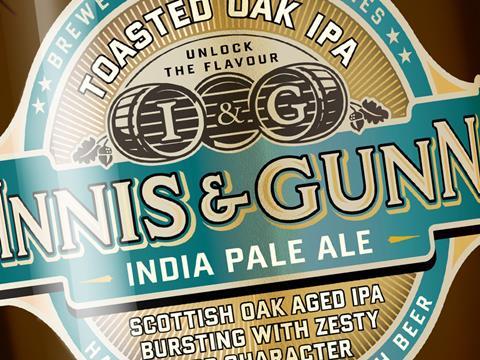 Scottish craft brewer has closed its crowdfunding campaign after raising £1.5m more than the initial £1m target.
The business received pledges for £1m within three days of launching the pitch on the Crowdcube platform.
It has since brought in another £1.5m to help accelerate the rollout of Innis & Gunn's Beer Kitchens bar and restaurant concept in England and North America.
The fundraising values the brewer at almost £50m and put a 4.8% stake in the hands of 2,012 investors.
The AdventureCapital campaign was also to support its immediate growth priorities as the brand bids to double revenues in the next three years to £25.
Founder and master brewer Dougal Gunn Sharp said: "Raising £2.5m is an amazing achievement and is testament to the belief the public has in our potential to affect and change the future of beer in the UK and abroad.
"We've worked tremendously hard over the last 13 years to brew great tasting, award-winning beer and this campaign has given us the opportunity to do even more."
Innis & Gunn, which second only to BrewDog in Britain's ten biggest craft beer brands, raised £3.1m in 2015 through a 'beer bond', which pays investors in beer. It used the cash to acquire The Inveralmond Brewery in Perth instead rather than building a new brewery. Production volume is forecast to triple in the next two years to 30,000 hectolitres.
Since its formation in 2003, Innis & Gunn has grown sales to reach £11.8m in in 2015. It also sells more than 20 million bottles of beer to the off-trade, including retailers such as Tesco, making it one of the biggest suppliers of craft beer to the industry.
The business currently operates three Beer Kitchens in Edinburgh, Dundee and St Andrews and has plans for a further three in Scotland over the next 12 months, in addition to a site in Toronto, Canada.
Sharp added: "This is not only an exciting chapter for Innis & Gunn, I believe this is clear proof that the public desire beer that stands out from the masses, beer that is flavoursome and beer brewed with passion."