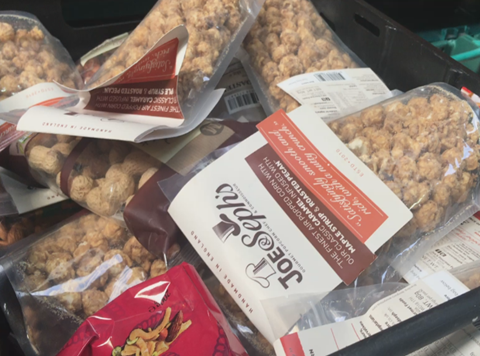 Gourmet popcorn brand Joe & Seph's has clinched new funding from the Business Growth Fund to support the launch of new premium confectionery ranges.
BGF Investments has taken a "small minority" stake in Joe's Gourmet Foods for an undisclosed sum. The investor specialises in accelerating companies' achievement of their perceived potential and has backed 280 businesses to date.
The investment catapults BGF investor Jon Simon on to the board of the company. He also has investments in crêperie brand Crêpeaffaire and retailer Furniture Village and sits on the board of Thai restaurant chain Giggling Squid.
Mark Escolme, former global MD of Gü Puds, also joins the board along with Paul Sopher, brother of co-founder Adam Sopher, who has been business development manager of Joe & Seph's since February 2015.
Adam Sopher said no existing directors had been replaced.
The BGF funding will support the development of Joe & Seph's new range of Chocolate Popcorn Bites, which launched last month and marks the business moving into the fast-growing premium confectionery category.
The range is available at more than 200 Sainsbury's, Harvey Nichols, John Lewis Food Halls, Whole Foods Market as well as Cineworld Cinemas and Empire Cinemas.
Sopher said: "We are extremely proud of the business we've created and the reputation we've built for high-quality, indulgent popcorn made from natural ingredients.
"The whole of our team is delighted to bring our customers tantalising new flavours as we continue to grow our innovative range with new products."
"We are a relatively small family business and it's expensive to launch new ranges."
He said the company was particularly excited about its recently released Chocolate Popcorn Bites, which was the culmination of two years of experimenting in its kitchens.
"BGF's minority approach to investment has been really key for us," Sopher said.
The Sopher family started Joe & Seph's popcorn in 2010. The popcorn is handmade at it London kitchens by pastry chefs who air-pop the kernels and use only "natural ingredients.
The range comprises more than 50 flavours, such as Chilli Chocolate and Salted Caramel, Cheese on Toast and Gin & Tonic. It is also known for its range of 15 caramel sauces.
Jon Simon, BGF investor, added: "Joe & Seph's has all the ingredients we look for; a strong founder led management team, great innovation and an excellent growth trajectory."