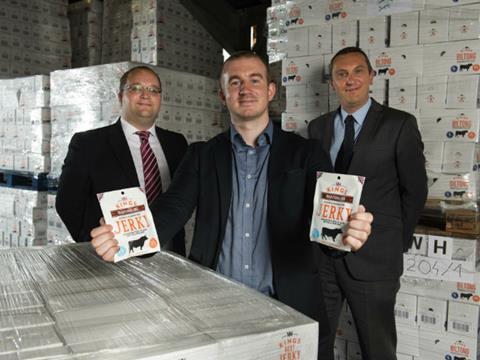 The owner of dried meat snacks brand King Elite Snacks has bagged a seven-figure finance package to expand its manufacturing capability and support growth plans.
New World Foods (Europe) makes a range of dried meat snacks at its factory on the outskirts of York.
It currently supplies products, including biltong and jerky, to all of the major supermarkets across the UK, following a brand launch in June 2015.
The business said it was enjoying strong growth through the agreement of multiple sole supplier relationships with leading retailers.
New World is part of a global group that entered the UK in 2014 through the acquisition of the Kings Elite Snacks brand, founded by former England Rugby Union players.
HSBC has provided New World with a funding package worth £1.1m, which has so far been used to purchase new industrial units, doubling the previous production capacity. The business also plans to create up to 20 new manufacturing jobs in the coming 12 months.
In addition, New World expects to increase its turnover by 50% over the next year to more than £6m.
"The financial backing from HSBC will allow us to pursue our aggressive growth strategy," said Charlie Simpson-Daniel, MD of New World Foods (Europe) and founder of Kings Elite Snacks.
"We are constantly launching new products and winning new clients, with significant growth being seen and forecast in the UK market.
"We are now the fastest growing meat snack brand in the UK and Kings is the brand leader in biltong and expected to become the brand leader in jerky in January 2018 through new product launches and sole supplier agreements."
Phil Look, HSBC North Yorkshire and Humber area director, added: "New World Foods (Europe) is a fine example of a North Yorkshire business with excellent products and equally impressive growth ambitions. We look forward to seeing the business flourish in the UK and overseas."
New World Foods (Europe) is part of a global snacks group majority owned by New World Foods, which is headquartered in Australia. The international firm entered the UK market after acquiring Kings Elite Snacks, which was founded by former rugby players Charlie, Mark and James Simpson-Daniel and Mike Tindall.