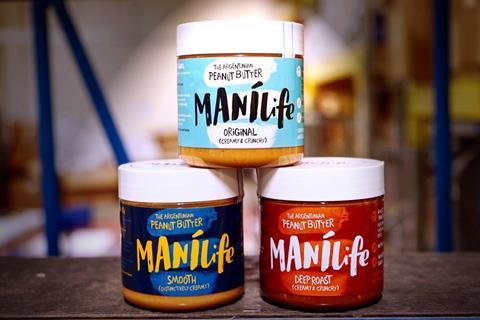 Peanut butter start-up ManiLife has blitzed its £100,000 crowdfunding target in less than an hour and is on track to raise up to £250,000 to fuel its rapid growth.
The London-headquartered brand, founded by former accountant Stuart Macdonald in 2015, is stocked in close to 500 stores.
ManiLife's three-strong range – two crunchy variants (Original and Deep Roast) and a new smooth blend – is made from peanuts sourced from a single farm in Argentina.
Macdonald started the business after spending a year in Argentina, where he spent time working for a social enterprise that specialised in peanut butter and travelled to the province of Cordoba, which specialises in peanut farming.
"In 2015, I was sitting with farmers in Argentina looking at the market back home in the UK and saw that whilst it was growing, no one was talking about peanut butter the way we speak about coffee, chocolate or wine," Macdonald said.
"There was no craft, no talk of provenance everything was mass-produced. Malnutrition in the UK was also rising at about 20% a year. I'd just discovered these incredible peanuts in Argentina and I'd been witnessing the magical impact this stuff had on malnourished kids."
He added that Argentine peanuts had the same fatty acid profile as olive oil, as well as lower linoleic acid and reduced sugar and sucrose content versus regular peanuts.
ManiLife hit its £100,000 funding target on the Seedrs platform in just 35 minutes and is currently (24 April 2017) overfunding, with £220,000 pledged from 184 investors. The start-up, which is valued at £825,000 after giving away a 21% equity stake for the money – will overfund up to £250,000.
The cash will be used to hire marketing and operations staff, marketing the brand, funding flights to Argentina to visit its supplier and for general cashflow.
Macdonald also has plans to secure major grocery listings for the brand and was approached last year by Ocado and another multiple retailer.
Since October, ManiLife has boosted its listings from 20 independent shops and specialist delicatessens to more than 470 sites thanks to a contract win with TK Maxx, where it is stocked in 400 outlets.
The company, which started by making small batches with two blenders in friends' kitchens, is also negotiating a deal with a London-based third-party manufacturing partner to help scale up production.
ManíLife peanut butter is priced at £4.49 for a 295g jar and £10.88 for the 1kg size.